The Asian Infrastructure Investment Bank may co-finance some of its first projects with similar institutions, such as the Manila-based Asian Development Bank, according to Mohammad Ishaq Dar, the Pakistani finance minister.
Some observers in Japan and the West have painted the AIIB and ADB as rivals, yet leaders of both banks have dismissed the suggestion.
In fact, "we see it as having a complementary role", said Dar who attended the opening ceremony of the AIIB held at Beijing's Diaoyutai State Guesthouse on Saturday. "It (the new bank) may fund projects alone, or it ... could co-fund them with other agencies, particularly the ADB.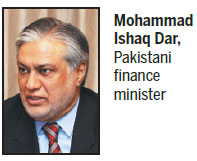 "They (other institutions such as ADB) have indicated they would like to join the AIIB in co-financing infrastructure projects in the region. They have an active relationship," he said, adding that this is also true for the World Bank.
Dar said the management of the long-awaited AIIB is now working "very seriously" on devising the first projects, "and I hope projects in Pakistan will be among them".
The finance minister is a frequent visitor to China and has witnessed a slew of events in the run-up to establishing the AIIB. Pakistan is a founding member of the bank.
The speed at which the new bank has gone from a proposal to a reality has been impressive, he said. "All the participants have contributed their best. Initially there was some skepticism, criticism even. But now that is all over."
zhangyunbi@chinadaily.com.cn