European scientists' work recognized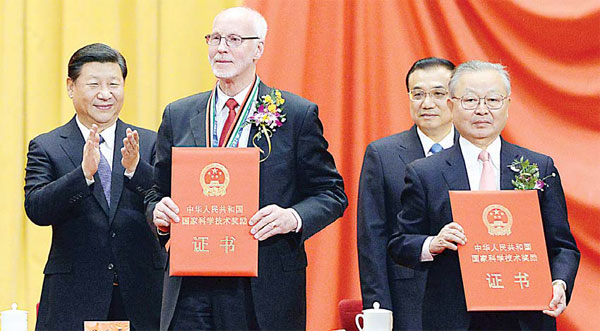 Jan-Christer Janson (second from left), professor of technical biochemistry at Uppsala University of Sweden, and Okimura Kazuki, head of the Japan Science and Technology Agency, together with other scientists, receive the 2015 state science and technology awards at a ceremony in the Great Hall of the People in Beijing on Jan 8. President Xi Jinping (left) and Premier Li Keqiang stand behind the scientists. Zhou Weihai / For China Daily
Nation honors specialists in physics, biopharmaceuticals and dental health
China has honored seven foreign experts, including three European scientists, in its 2015 state science and technology awards.
The awards have five categories and include the International Science and Technology Cooperation Award, which is presented to foreigners who make significant contributions to China's development.
The prizes were handed out at a ceremony at the Great Hall of the People in Beijing on Jan 8.
"Winning this fine award means recognition for my 35 years of successful cooperation with Chinese scientists and biopharmaceuticals companies, which has led to the production of vaccines, cancer drugs, human plasma proteins and biomedical devices," says Jan-Christer Janson, 77, a professor from Sweden and one of this year's prizewinners.
He says he expects receiving the award will strengthen applications for research grants submitted by his Chinese partners to local authorities.
Janson, a member of the Swedish Royal Society of Science in Uppsala, has been collaborating with Chinese biotechnologists since 1980. He has helped China design and develop industrial separation and purification processes for several drugs, which have been manufactured in large quantities by Chinese biopharmaceutical companies.
Carlo Rubbia, an 81-year-old physicist from Italy, and 66-year-old dental health expert Joannes Frencken, of the Netherlands, also received the international award.
Zhang Mu, deputy director of the office that organizes the annual awards, says China has been cooperating more widely with foreign experts and organizations since reform and opening-up in the late 1970s.
The government introduced the international award in 1994 to honor foreign experts and encourage overseas cooperation in the technology industry. Almost 100 experts from 17 countries and two overseas organizations have so far received the prize, according to official records.
Frencken says winning the international award also is recognition for his colleagues at Wuhan School in Hubei province and the Hospital of Stomatology, also in Wuhan, and that it "carries more weight and has touched me more deeply than previous honors".
By working with Chinese orthodontists over the past decade to promote exchanges and cooperation with the World Health Organization, Frencken has helped to introduce alternative methods and treatments among Chinese dentists.
Like Janson, he expects the award will raise his profile among potential investors and that research funds could become more readily available. "I'm happy to say that the cooperation (with Chinese partners) in performing clinical research was without major difficulties," he says, adding jokingly: "The single biggest problem is my inability to speak Chinese."
Cheng Yingqi contributed to this story.
renqi@chinadaily.com.cn