Acclaimed experts hail Sino-Russian collaboration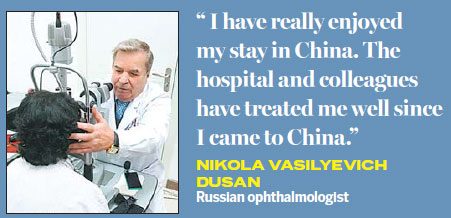 Evgeny Velikhov, the Russian nuclear physicist, says he was surprised to be one of the recipients in the latest round of China's top science awards.
The 81-year-old has worked with Chinese experts on the International Thermonuclear Experimental Reactor Project since 2003, and has been a long-term advocate of cross-border collaboration in science and technology.
Velikhov says the Chinese award, which was presented on Jan 8, was in recognition for his work in China and "a vast privilege". The prize comes after he was given the Knight Order of Merit, Russia's highest honor, in 2015.
He says he is grateful to have "a fantastic team" at the Chinese Academy of Sciences' Institute of Plasma Physics in Hefei, Anhui province, a major center for research in thermonuclear fusion, which he has worked with for over a decade.
China and Russia have a long history of talent exchanges, dating back to at least the 1950s. It has played an important part in China's economic development, including in agriculture, energy, transportation, education and technology.
According to official Chinese data, about 6,000 Russian experts have visited the country every year since 2000.
"I see the deep and thoughtful interest from the Chinese government and President Xi Jinping in pushing forward Sino-Russian economic and academic ties," Velikhov says. "I think we're now just at the beginning of a long and productive road of close and mutually beneficial collaboration."
Nikola Vasilyevich Dusan is another example of Sino-Russian exchange. The ophthalmologist came to China in 1998 and is now a leading expert at Daqing Ophthalmic Hospital in Heilongjiang province.
In his 20 years working in Daqing, he has helped restore the vision of more than 100,000 patients.
"I have really enjoyed my stay in China," says Dusan, who was born in 1947 and was previously director of ophthalmology at the People's Friendship University in Moscow. "The hospital and colleagues have treated me well since I came to China."
In 2009, the Chinese government gave Dusan the Friendship Award, one of the highest honors for a foreign expert in China.
He says he values the cooperation in exchanging foreign experts, as it benefits countries and help experts to improve their skills.