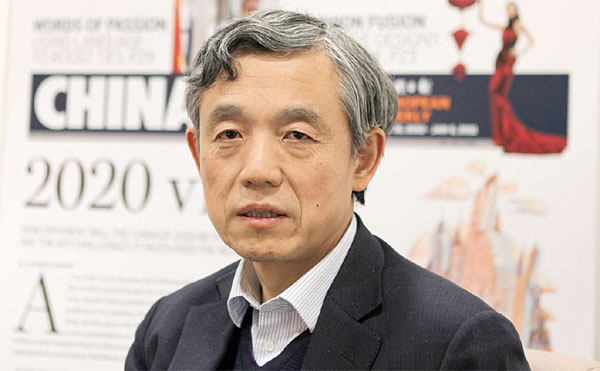 Xue Lan, dean of the School of Public Policy and Management at Tsinghua University, says there are areas in which China can strengthen its scientific structure to make even more progress and recognition possible. Fu Jing / China Daily
After years of significant progress, policy adviser predicts more gifted scientists will win top global recognition
More gifted Chinese scientists, especially in physics, new materials and life sciences, are "very likely" in the next five years to see the type of global recognition given 84-year-old Nobel Prize winner Tu Youyou, says a top science policy adviser to the Chinese government.
"Tu Youyou has become China's first Nobel laureate in natural sciences last year, and I don't think we will stop here," Xue Lan, dean of the School of Public Policy and Management at Tsinghua University, said in an exclusive with China Daily in London during an academic exchange.
"Instead, I am confident that, after the painstaking efforts of the previous 10 to 15 years, Chinese scientists, as a whole, already are standouts on global frontiers and have become capable of competing with their global peers."
Tu, the 2015 winner of the Nobel Prize in physiology or medicine, is known for discovering artemisinin, which halved the mortality rate of malaria during the past 15 years. She was recognized with two other scientists, from the United States and Japan, who developed a treatment for river blindness.
Xue says such recognition is a testament to China's progress in basic scientific work. Xue says his prediction is based partly on his experience abroad and work tracing global scientific development.
His observations cause him to believe global recognition is likely for more than just "one or two scientists". Instead, he sees this potential among a growing group of Chinese scientists.
He also says there are areas in which China can strengthen its scientific structure to make even more progress and recognition possible.
After earning a doctorate in engineering and public policy in 1991 from Carnegie Mellon University in the US and teaching at George Washington University, Xue returned to China to teach at Tsinghua in 1996. In 2000, he helped found its School of Public Policy and Management.
Xue also has been a visiting scholar at the World Bank and Harvard University, where he serves on the advisory board. He also has been an adviser for science and technology policies for the Organization for Economic Cooperation and Development, the United Nations, the Asia-Pacific Economic Cooperation group, and Oxford University.
This experience has given him a broad view of global science and technology development. He says it has also enabled him to pick out physics, new materials and life sciences as the areas where recognition is most likely for China.
In physics, he says a research team led by his Tsinghua colleague, Xue Qikun, in collaboration with researchers from the Chinese Academy of Sciences and Stanford University, reported the first experimental observation of the quantum anomalous Hall effect.
According to Tsinghua, this represents an important new phenomenon discovered by Chinese physicists. Xue Lan cited Yang Zhenning, the 94-year-old Chinese-American Nobel Prizewinner in physics as saying that this research outcome should be recognized by the Nobel committee.
Also in physics, Xue cites Pan Jianwei, a 46-year-old quantum scientist at the University of Science and Technology of China in Hefei, Anhui province, as a possible Nobel Prize candidate. Pan led a team that won China's top science award, the State Natural Sciences Award (first class) on Jan 9 in Beijing for his team's outstanding discoveries in quantum communications.
Xue also says Chinese scientists have made solid progress in the research of new materials science, but he did not cite any individual scientists.
"The third area is from life sciences," says Xue, noting that Shi Yigong, a researcher in protein X-ray crystallography and dean of the School of Life Sciences at Tsinghua University, could be a candidate for top recognition.
"And encouragingly, even younger researchers in the area have started to show such credentials," he says.
Xue says Yan Ning, a life sciences professor who teaches at Tsinghua University, is one of the young candidates for global recognition. Yan got her bachelor's degree at Tsinghua in 2000 and was awarded her doctorate in 2004 from Princeton University in the US.
"Yan is not alone, and we have a group of young scientists who already have garnered enough credentials to win recognition at global stage," he says.
Xue says China's credentials in basic sciences could turn the country into the world's second-biggest scientific power, after the US.
In terms of the number of scientific papers recognized through international citation standards, Chinese scientists produce half of the total of their American peers, but that's a big increase from 2009, when the proportion was one-third.
Despite such progress, Xue says China needs to take urgent measures to reform its science and technology research systems to further tap the potential of its talent.
"Especially, we need to offer attractive benefits packages to young scientists and researchers to ensure they are carefree and can focus on their research," he says.
Right now, China's payment system for scientists and those in knowledge-intensive sectors are still rigid and the levels are low, he says. "Their contributions are calculated and paid in a way similar to the payment for construction workers, and this is surely not reasonable."
Xue has urged the government to boost incomes and make sure compensation is in the form of annual salaries for those in knowledge and creative sectors, such as professionals at universities, research institutions and hospitals.
"Such reform would allow young scientists to be rid of their worries, and their talent and potential would be more fully accessible," he says. "Now, most of them are still not living a decent life."
Xue says he shared his suggestions with Premier Li Keqiang at a recent meeting in Beijing, when Li invited him to join several distinguished foreign experts, including Nobel economics laureate Joseph Stiglitz and economist Jonathan Woetzel with the Shanghai office of McKinsey & Co, to offer advice on China's development programs for the coming five years.
"Premier Li echoed my suggestions and said they are important when he shook hands with me after the discussion," says Xue, who is on a panel of experts for China's 13th Five-Year Plan (2016-2020) dealing with national economic and social development, which is expected to be endorsed by the National People's Congress in March at its annual session.
Xue has been requested to give such advice for the top leadership on several occasions, and he is also seen as a key expert in China's designated strategic industries, such as life sciences, new materials, new energy, the Internet and electric automobiles.
In the next five years, he says, China needs to work on turning its research capacity into a bigger force for improving the country's productivity, competitiveness and profit-making capabilities.
"In contrast to our growing research credentials in basic sciences, we still fall short in industrial innovations, which allow our businesses to become multinationals," he says.
Xue says he can count on his fingers the Chinese companies with global fame. He says Huawei, a telecommunications company, is an excellent example of one that attaches great importance to research and development.
"Apart from Huawei, you cannot easily name others that could be called real global brands in the high-tech sector," he says.
"So obviously it is urgent to speed up market-oriented reforms, offer incentives, protect intellectual rights, and turn research outcomes into products and brands."
fujing@chinadaily.com.cn