China's richest man, Wang Jianlin, has paid $3.5 billion for a controlling stake in Hollywood film studio Legendary Entertainment, which made blockbuster hits such as Jurassic World, The Dark Knight Trilogy, and Godzilla. Will another member of China's billionaire list follow suit and make the next major move into Hollywood?
To financial adviser Mario Gabelli, Jack Ma, who runs Alibaba Group Holding Ltd, should buy a stake in Paramount Pictures' movie studio, which is owned by Viacom Inc. Gabelli's advisory firm Gamco Investors owns a 10 percent stake in Viacom.
"Jack Ma has a great understanding of the Chinese movie market," Gabelli told the Financial Times in December. "If Alibaba is going to be serious about getting into the entertainment industry, Viacom should sell Jack Ma a piece of Paramount."
The move would generate new funds for Viacom and allow Paramount to produce more films for the Chinese market, he said.
"It makes sense from the point of view of what Jack Ma wants to do with Hollywood," Stanley Rosen, a Chinese film expert and professor of political science at the University of Southern California's US-China Institute, said in an interview with China Daily.
"It makes sense because Paramount wants market share in China and wants an infusion of money into the operation," Rosen said. "Alibaba wants to move very heavily into film, and with Alibaba Pictures they're already doing that and would like to have credibility with a major studio.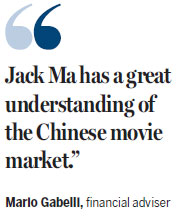 "Whether Jack Ma wants to buy a smaller part now and gradually build up his stock remains to be seen," he added. "But it's hard to know because everything depends on the price, the willingness of others to sell, etc."
But "can [Jack Ma] get enough to gain a controlling interest is what I think he wants?" Rosen said.
In late 2014, Ma made it clear that he had aspirations for Alibaba to become the "world's biggest entertainment company".
Since then, he has met and hobnobbed with executives at most of Hollywood's major studios to discuss distribution rights and to secure potential investments, a group that includes Lionsgate, Disney, Paramount, Warner Bros, Sony and Universal, according to a Jan 5 report in The Hollywood Reporter.
Alibaba Pictures and Paramount are not strangers. They worked together in June on the production of Mission: Impossible - Rogue Nation, which made $135.6 million in China, according to data from Box Office Mojo.
Peter Schloss, CEO of CastleHill Partners, a Beijing-based merchant bank specializing in media and sports industries, told the Hollywood Reporter in a Jan 5 interview: "When there's smoke, there's usually fire, but I believe it's unlikely for Alibaba to buy into Paramount. I do, however, believe Alibaba and Jack Ma will eventually make a move on a [major] studio or independent, so Wang Jianlin doesn't steal their thunder."
Wendy Su, an assistant professor of media and cultural studies at the University of California-Riverside, told China Daily that a potential Alibaba-Paramount deal "probably makes more sense to Alibaba, but it is a good strategy for Alibaba to diversify its business and march into the film industry."
Su wrote that Alibaba and Viacom could benefit from a closer relationship in a number of ways, including increasing market share, acquiring film funds, exchanging talent and sharing other resources.
But Alibaba is still a "newcomer" in the film business, Su added, and it "does not have the experience and achievements of more established players like Huayi Brothers".
Rosen said: "If you're talking about a whole year from now, I would say that it's likely that Alibaba would have a stake in one of the big Hollywood studios — probably not a majority stake. It may or may not be Paramount because [Jack Ma] has been talking to a lot of other places as well. But studios don't come open that often."
jackfreifelder@chinadailyusa.com
(China Daily USA 01/14/2016 page2)