Maldives magic
The enchanting archipelago is working to conjure new allure to draw record numbers of Chinese. Yang Feiyue reports.
New flights, improved tourism infrastructure and promotional programs are expected to draw new waves of Chinese to the Maldives, especially as the island nation celebrates its Year of Tourism in 2016.
Mega Maldives Airlines will launch weekly direct flights connecting Zhengzhou, capital of Central China's Henan province, and Ibrahim Nasir International Airport from Feb 1.
The airline operates about 30 percent of flights between the two countries, strategy and business development director Mifzal Ahmed says.
It currently runs routes from Beijing, Shanghai, Hong Kong and Macao.
"Zhengzhou is the gateway to Central China, and we think it's a market that will grow," Ahmed says.
Flights from Shenyang, capital of northeastern China's Liaoning province, will also be developed in early 2016, Ahmed says, adding that Maldivian, the country's national carrier, is also planning new routes.
Mega will also offer free and discounted tickets to Chinese on social media.
Air China will soon start direct flights from Southwest China's Chongqing.
Chinese are already the strongest force in the Maldives' pillar tourism industry.
"President Xi Jinping paid a state visit to the Maldives (in 2014) and encouraged Chinese tourists to travel in the Maldives, which has produced a positive effect on local tourism development," says Mohamed Haris, acting managing director of the country's tourism authority.
Roughly 323,000 Chinese tourists visited in 2015's first 10 months.
The number totaled 360,000 in 2014, accounting for one-third of inbound travelers, up 9.6 percent over the previous year. The archipelago's authorities hope to reach half a million in 2016. It announced big prizes for this year's first and 500,000th Chinese tourist.
The Maldives was the third-most popular island destination for travelers who booked through China's biggest online travel agency, Ctrip, during last National Day Golden Week holiday, after Thailand's Phuket and South Korea's Jeju.
The travel agency reported a five-fold increase in bookings on Nov 11, a day after the Maldives lifted its state of emergency declared following an alleged assassination attempt on the country's president. The state of emergency was initially declared for 30 days but lifted after just a week.
More than 2,000 individual visitors signed up for December visits through Ctrip.
"We ensure that our tourists are well taken care of because they're our bread and butter," Maldivian ambassador to China Mohamed Faisal says.
"It's like business as usual."
The Maldivian side is working with such major Chinese travel agencies as Ctrip, Tuniu and China CYTS Tours Holding.
China is also supporting many of the 60 ongoing tourism-infrastructure projects, including a bridge to connect the Ibrahim Nasir International Airport to the capital, Male, by 2018.
The bridge will enable visitors to drive to Male in three minutes, avoiding delays caused by turbulent seas.
The airport's annual capacity will be expanded to accommodate 7 million passengers that year.
The government hopes to by then lure 1.5 million Chinese annually.
"We have planned major events internationally and locally," Haris says.
The country staged road shows in Shanghai, Zhengzhou and Beijing to introduce new sites in late December.
More will be hosted across China this year, as will surf and photography competitions. The Maldives will also upgrade its Chinese-language tourism website.
Airports and resorts now offer Chinese-language services and UnionPay banking.
The October National Day holiday and Spring Festival, which this year falls in early February, are peak travel periods for Chinese.
"The Maldives is an all-year destination," Faisal says.
Substantial flight and hotel discounts will be offered in March and April.
Resorts are developing itineraries specially for Chinese, whose stays average five days - half of the European travelers'.
These cram in more activities, such as fishing, snorkeling and scuba diving, into each day.
The Maldives hopes to introduce new offerings to Chinese, such as small guesthouses on uninhabited islands and "safari boats" with dozens of rooms that are like hotels at sea.
The country has about 180 such vessels at the moment and is building about 40 a year. All-inclusive rooms cost about $200 a night.
Indeed, these developments may mean smooth sailing for increasing inbound Chinese tourism to an already popular island getaway.
Contact the writer at yangfeiyue@chinadaily.com.cn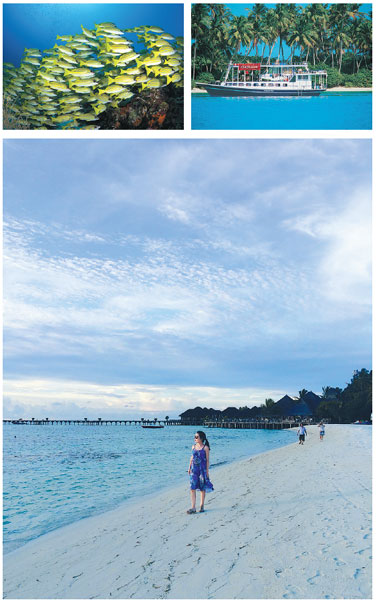 The island nation of Maldives offers visitors a variety of activities, such as fishing, snorkeling and scuba diving. It has become one of the most popular destinations for Chinese travelers. Photos Provided To China Daily