White clay advertised as food additive
A white clay typically used as a raw material to make pottery in China is being advertised online as "edible earth".
A shop owner on Taobao, one of China's most popular e-commerce sites, recommends mixing 20 grams of kaolin powder with 50 gm of melted chocolate and freezing it for a few minutes to make a desert. Another recipe suggests covering cooked potatoes with a mixture of kaolin and water and baking them until the clay layer dries.
The Taobao shop sells the imported earth at 297.50 yuan ($46) for a 750-gm bag.
Long used as a pigment in papermaking, paints, medications, skincare products and cosmetics, kaolin also has a history of being used as a food decoration. Records also show that people ate the mineral-rich clay during times of famine to fend off hunger, but warned that fatal stomach problem often followed.
The Taobao seller said his kaolin is imported from Spain, but there is a shortage at the moment, so potential buyers would have to wait for delivery. He declined to give a detailed description of the product or say whether it is safe to eat.
Widely available in China, kaolin is an aluminum silicate derived from the mineral kaolinite. Han Junhua, a food safety researcher at the China National Center for Food Safety Risk Assessment, said kaolin is allowed as a food additive in China due to its special characteristics.
"However, there are restrictions on how it is used and the amount used as a food additive," she said.
According to national food safety standards released by the National Health and Family Planning Commission last year, kaolin falls into the category of food additives whose usage is strictly restricted, along with other additives such as sulfur and gelatin.
According to the standards, kaolin can be used as clarifier or filter-aid agent during the brewing process of beer or fruit wine, and only after it is properly processed so harmful elements, such as arsenic and lead, meet safety standards.
Xu Miao, a book editor in Beijing, said she had heard people discussing the novel product, but could not imagine that anyone would want it.
"I had never heard of an earth that could be eaten," Xu said. "I cannot understand why people are buying it."
wangxiaodong@chinadaily.com.cn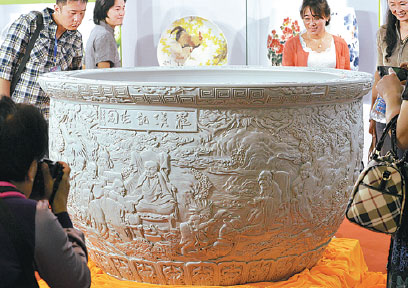 A porcelain jar made from 2 metric tons of kaolin is displayed at an expo in Tangshan, Hebei province. Zheng Yong / Xinhua