Smog smells like big profits for tour firms
Tourism companies are cashing in on North China's smog woes by offering "clean air getaways" for residents looking for a breather.
In December, as cans of fresh Rocky Mountain air began to the fly off the shelves in Beijing, travel agencies started to push packages for overseas destinations that boast year-round blue skies.
More than 60 percent of Chinese cities reported high air pollution levels around Christmas, including the capital, which issued two red alerts late last year. Industry insiders say it prompted many residents to head overseas for a new year's break.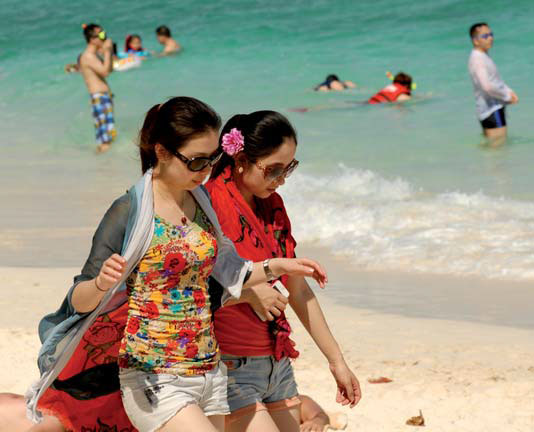 Tourists on Phuket Island, Thailand, enjoy unspoiled scenery. China's outbound travel market has grown rapidly in recent years, partly due to concerns over poor air quality in major cities. Provided to China Daily
Ctrip, one of China's biggest online travel agencies, says it received a good response to its "smog escape routes" promotion in December.
"Searches on our app and website rise in pace with smog levels," says Yan Xin, a spokeswoman for the company. "Many customers moved their departure dates forward or switched from domestic to international destinations to escape the severe air pollution."
Based on bookings made through Ctrip, the top 10 destinations over the Yuletide holiday were in Japan, Thailand, Australia, Canada, Switzerland, New Zealand, the United States, Maldives, Mauritius and the United Arab Emirates.
Zhang Guangqi took two extra days off around new year's day to visit Okinawa in Japan. "It was a spontaneous decision," he says. "I didn't have any specific plans for my visit. I just wanted to escape the air."
The most popular domestic spot was Sanya, a resort city on the southern island of Hainan that has tropical weather, followed by Harbin in the northeast, and Kunming and Lijiang in the southwest.
"Most visitors were from northern China who wanted to escape both the smog and the cold," Yan says.
China's outbound travel market has grown rapidly in recent years, partly due to concerns over poor air quality in major cities.
In 2014, Ctrip teamed up with insurance company Ping An to offer "smog insurance" for people who choose to vacation in Chinese cities regularly affected by poor air quality. Yet most prefer overseas destinations.
Zhao Lanlan, who lives in Beijing, traveled to the United States twice in 2015. "I spent one and a half months on the east coast and a month in Texas," the 58-year-old says. "I can't stand the smog. In winter, the smog gets worse, and it doesn't help hiding at home."
Going to the United States is easier now thanks to relaxed visa policies, she adds. "It feels great there just to go around in the sunshine under the blue sky."
Yang Feiyue and Erik Nilsson contributed to this story.