Alibaba offers assurance at CES
Alibaba.com announced a partnership with the organizers of the Consumer Electronics Show that will facilitate the use of their trade assurance program, as the number of Chinese exhibitors at the Las Vegas venue increases.
Hundreds of Chinese suppliers at CES will have "Trade Assurance" flags at their booth, which provides interested American buyers protection for transactions in case any suppliers fail to fulfill their sales contracts.
"We're partnering with CES because they have a lot of Chinese exhibitors for products and a lot of local buyers, and we're working with them to try and facilitate as much usage of this as we can. Both of us realize that it's important to our collective ecosystems to have this," James Tobyne, head of strategic partnership and business development at Alibaba.com, told China Daily.
This will be the first time Alibaba.com has partnered with CES on the program, which comes at a time when Chinese exhibitors make up nearly a third of all companies showing at the trade show.
"We like to think of ourselves as a good potential hub for facilitating activity and helping direct people to suppliers," Tobyne said.
The company will also launch its trade assurance program at CES Asia, which will take place in May in Shanghai, for American buyers who go to look at Chinese products there. "We're going to swap the model and try and facilitate with all the American buyers that go there with tons and tons of Chinese exhibitors," he said.
This is Alibaba.com's seventh year at CES, according to Tobyne, who said there has been an increase in sophistication in the products that Chinese exhibitors are putting on display.
"A lot of the companies, whether they're from China or Sweden or wherever, you see that there's a general upgrade in the quality of who's coming, what they're exhibiting. I think with the Chinese suppliers especially, you can tell that quality of what you're getting and what they're manufacturing has gone up," he said.
"If you look at the drone section, there are tons of Chinese suppliers and they have some fascinating products. Some of them are smaller products but the quality and sophistication levels have gone up," he added.
amyhe@chinadailyusa.com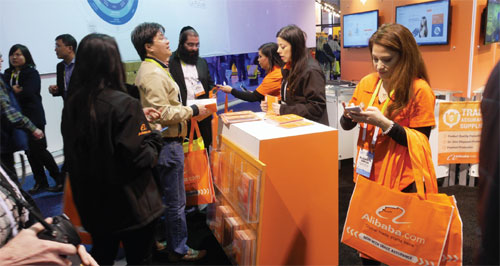 Alibaba.com's booth at the Consumer Electronic Show in Las Vegas drew shoppers as the Internet giant partnered with show organizers to offer a trade assurance program. The program provides interested American buyers protection in case suppliers fail to complete their transactions, whether through failure to ship or process orders. Amy He / China Daily