Stock plunge triggers another trading halt
Regulator suspends circuit breaker mechanism unveils rules to limit selling by big shareholders
The Chinese stock market suffered the second dramatic fall within a week on Thursday, placing regulators in a difficult position as analysts warned that any government intervention to contain the market meltdown could run the risk of backfiring.
As the nascent circuit breaker, designed to stem volatility in stock markets by halting trade when the market plunges, has "more negative effects than positive", the China Securities Regulatory Commission decided on Thursday night to suspend it.
All market trading was shut down in less than 30 minutes, marking the shortest-ever trading session in the Chinese stock market.
The halt came after a 7 percent plunge of the CSI 300 Index, which tracks some of the largest stocks in both Shanghai and Shenzhen, triggered the circuit breaker mechanism that closed the market early.
The plunge wiped out at least 3 trillion yuan ($455 billion) of market value.
The unprecedented trading suspension subsequently caused a dramatic shrinkage in market liquidity, fanning investors' fears of a replay of the summer market rout that eventually prompted government intervention.
"The authorities are now faced with a choice of either doubling down on the supportive measures they've been implementing for equities over the past six months, or relenting to market pressures," said Tom Rafferty, Asia economist for the Economist Intelligence Unit in Beijing.
"Past evidence suggests they will opt for the former approach, but in our view this will at best only delay the correction."
The market slide came as the Chinese currency weakened further on Thursday, and as global markets continued to be under mounting selling pressure amid investors' growing concerns about a slowing Chinese economy.
The lifting of the sales ban on major shareholders of listed companies, imposed by the CSRC during the summer market rout, has also been seen as a prime factor that triggered the market sell-off.
To calm investors' anxiety, the regulator issued a statement immediately after the market closure to restrict share sales by major shareholders of listed companies. The restriction capped the maximum selling volume at no more than 1 percent of these companies' total shares within three months.
The CSRC said the new selling rules did not mean that the State-owned fund, the so-called national team, would exit the market, but would instead continue to stabilize it.
Analysts said the latest round of market fallout could prove to be a test for the government, which is struggling to achieve a delicate balance between administrative moves and market forces.
"The regulator has to learn how to keep an appropriate distance with the market," said Dong Dengxin, a finance researcher at Wuhan University of Science and Technology.
lixiang@chinadaily.com.cn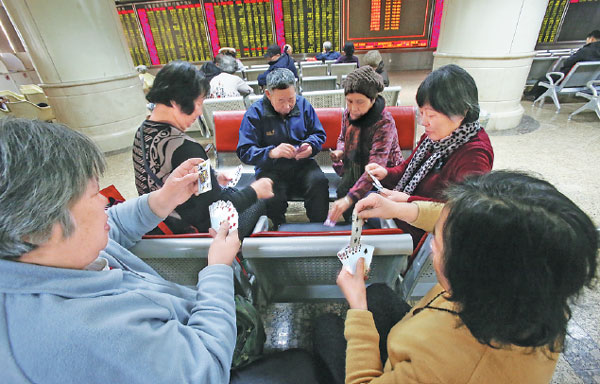 Investors kill time at a trading floor in the Dongzhimen area of Beijing by playing cards on Thursday morning, after trading on the Shanghai and Shenzhen stock exchanges halted. Cao Boyuan / for China Daily