Refugees look to end life in limbo
About 800 displaced people are living in China while they await resettlement in another country, UN officials say. one refugee, who studied in China, wishes he could stay on with his family
Editor's note: In accordance with the wishes of the Office of the UN High Commissioner for Refugees, names and personal details have been changed to ensure the safety of the interviewees.
Every weekday, Saad sees his son off to school in a city in southern China. It's a pretty normal activity, but a regular life such as this is now almost impossible in Saad's home country of Syria.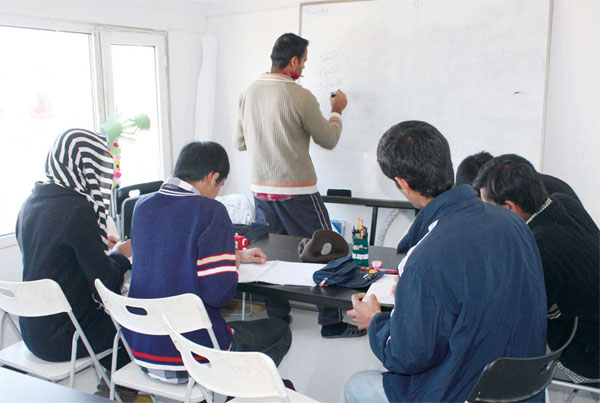 Refugees attend an informal class run by refugee volunteers. V.Tan / China Daily
Although life as a refugee in China is not easy, the 45-year-old said at least he doesn't constantly worry whether his son will survive the journey to and from school.
"People need to understand that no one wants to be a refugee. We don't want money or other material things. We just want to be safe. When your life is in danger and you can't protect your family, nothing else matters," Saad says.
When Saad arrived in China in 2001 to study for a master's degree and then a doctorate, it never occurred to him that he would be unable to return home and fulfill his ambition of opening a medical clinic with his wife in his hometown in the north of the country.
The situation spiraled out of control in 2011, when groups opposed to President Bashar al-Assad began organizing demonstrations across the country. The protests quickly developed into open conflict, and random attacks by unidentified groups proliferated.
In China, Saad followed the escalation of violence on TV and social media. On Aug 12, 2012, his uncle and one of his brothers were killed when a bomb fell on their house as they stood outside.
Saad was shocked, but deep down he knew that such a tragedy could happen to his family at any time. After the attack, most of his relatives began fleeing the country by one means or another, like many of their compatriots.
"One of my other brothers told me he was planning to cross the Mediterranean Sea to Europe. He used to work for the government, and he had received death threats from the Islamic State group," he says. "Everyone knows the boat trip is dangerous and people may not survive, but they still undertake the journey with their children because they know that staying in Syria is like living with a ticking bomb."
No way home
After a while, Saad began to realize that to ensure the safety of his wife and son he could not return home, and that it could take years or even decades for the Syrian conflict to be resolved. In February 2013, his Chinese visa was about to expire and he felt he had run out of options, so he went to the local police station to ask for help.
The police referred Saad to the UN High Commissioner for Refugees in Beijing - the only organization allowed to determine refugee status in the Chinese mainland.
In March of 2013, the UNHCR recognized Saad and his family as genuine asylum seekers, but it took another year for them to be classified as refugees.
The UNHCR established its office in China in February 1980, in response to an influx of Vietnamese refugees in the wake of the Sino-Vietnamese conflict of 1978-79.
Approximately 300,000 refugees from Indochina have now settled in six provinces and regions: Guangdong, Guangxi, Fujian, Hainan, Jiangxi and Yunnan. They have been in China for more than 30 years and are completely integrated.
'A global crisis'
As of the end of November, there were 795 "persons of concern" to the UNHCR in China: 154 recognized refugees (primarily from Somalia, Syria and Afghanistan) and 641 asylum seekers (mostly from Nigeria, Liberia and Uganda), according to Michele Manca Di Nissa, the representative of the UNHCR's Beijing office.
"In recent years, the nationalities of those who have arrived at the UNHCR's Beijing office to seek asylum has reflected a global crisis," he said, noting that in 2012, as the civil war in Somalia intensified, the office saw a rise in the number of Somalis registering.
By the end of August 2015, the number of Syrian refugees in China had risen to nine from just one in August 2013. By the start of December, the number of asylum seekers from Syria had risen to 26 from five the previous year.
The UNHCR advocates the adoption and implementation of a comprehensive international law on asylum, in line with the UN's 1951 Convention Relating to the Status of Refugees, to register and issue UNHCR certificates to asylum seekers and refugees on an individual basis.
The adoption of the law would also allow the UNHCR to conduct the Refugee Status Determination process, or RSD, under the mandate of the convention and to pursue durable solutions for all refugees.
In 1982, China signed the 1951 convention and its 1967 Protocol. However, the country has not yet adopted a comprehensive law on asylum and does not conduct RSD. Hence, the UNHCR continues to undertake RSD.
It takes an average of 16 months between a person registering for asylum and the first decision on status determination. Applicants may appeal if the first decision is unfavorable, but it can take a further year for a final decision to be handed down.
At present, more than 500 people from a number of countries are waiting for UNHCR officials in China to process their RSD applications. The process is time-consuming because the three officials are required to check both the veracity of the statements presented, and also whether the applicant fulfills the criteria to be classified as a refugee under the terms of the 1951 convention.
The officials also have to identify applications that are "clearly abusive" or "manifestly unfounded" and then define them as obviously fraudulent or not related to the criteria for the granting of refugees status or any other criteria that justifies the granting of asylum, Manca Di Nissa says.
Because China does not accept asylum seekers, almost all the urban refugees in the country have been resettled in other countries, including the United States, Canada, Sweden, France and Australia.
It takes approximately two years between the granting of refugee status and departure for the country of resettlement, although the length of the procedure is mostly determined by the recipient country, Manca Di Nissa says.
Saad and his family are now waiting to be resettled. As a refugee he is not allowed to work, so the entire family has to squeeze into a cramped apartment and exist on a small allowance provided by the UNHCR. The primary candidate of each family, such as Saad, can receive up to 1,000 yuan ($154; 141 euros) a month.
Despite the discomfort, Saad is content. Compared with a friend from his hometown who recently lost his wife and four children in an attack, Saad feels that his family is blessed.
"I have a doctorate (in engineering). I really wish the Chinese government would allow me to work so I could better support my family and contribute to society. Also, I would have chosen to stay in China if it accepted refugees," he says.
According to Manca Di Nissa, all the urban refugees in China arrived with valid visas, but later found themselves stranded because of crises at home.
China allows the children of refugees to attend schools (in September, there were 18 school-aged refugee children in China), although implementation of the decision is being hampered by a lack of space and the language barrier. The UNHCR and China are trying to resolve the problem so the children are not deprived of an education and, therefore, a future.
In August 1979, the State Council set up a working group within the Ministry of Civil Affairs to handle issues related to refugees from Indo china. In 2008, the ministry's department of international cooperation became responsible for the affairs of Indochinese and urban refugees. The ministry said it began drafting a regulation on refugee status determination and management in 2013, but so far no details have been published.
"Protecting urban refugees, most of whom are overseas students, is a relatively new challenge for China. It has been very careful and low key with regard to refugee issues," says Liu Guofu, a law professor who specializes in Chinese immigration and refugee law.
The law controlling the entry and exit of foreign nationals states that asylum seekers and refugees are allowed to stay in the country as long as they have temporary documents issued by local public security departments, but it doesn't say what other rights or benefits they can receive, Liu says.
"China needs to include asylum seekers and refugees in the laws and regulations related to immigration so they won't be neglected. Also, it would help China to handle the possible refugee influx from bordering countries in accordance with the law," he adds. "China could also start accepting a small number of refugees annually to show that the country is happy to take on more responsibility."
On Nov 27, China gave the UNHCR humanitarian aid worth $2 million to help resolve China's current refugee problem.
cuijia@chinadaily.com.cn