Construction waste a growing problem for China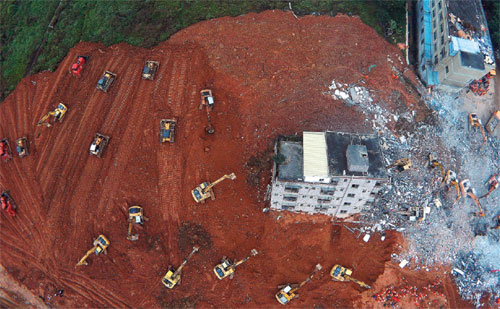 Rescue work continues in Shenzhen, Guangdong province, after a huge landslide of dirt and construction waste buried buildings on Sunday. Jin Liangkuai / Xinhua
Sunday's landslide revealed the threat posed by illegal dumping and a lack of related regulation, report Xu Wei in Beijing, Zhou Mo in Shenzhen, Guangdong province, and Zhou Wenting in Shanghai.
On Thursday evening, as hundreds of excavators and members of search and rescue teams continued to comb tons of red mud that swamped three industrial parks, including 33 buildings, in Shenzhen, Guangdong province.
As the work continued experts were asking how the unstable subsoil and construction debris could have been piled so high that it posed a threat to public safety.
The huge volume of soil and building waste, estimated to cover 380,000 square meters, means rescue teams may have to dig 30 to 40 meters to locate buried buildings, Wang Guoshe, head of the Guangdong Fire Department, told a news briefing on Wednesday.
Rescuers were able to pull the first survivor from the buried buildings at about 6 am on Wednesday, 67 hours after the wall of mud and waste spilled over.
An investigation by the State Council is assessing whether the landslide was caused by contractors piling loose debris on top of an existing mound. While the original mound remained intact, the unstable material piled on top succumbed to the influence of gravity.
However, even before any conclusion has been reached, the State Council's Work Safety Committee has ordered a nationwide assessment of all dumping sites to prevent a similar disaster, according to a statement it released.
Industry experts and construction project managers said the problem is widespread in China, because the disposal of dirt and construction debris in urban areas has long lacked legal and official supervision.
"It's an alarm bell, and the lesson has been learned the hard way," said Chen Jialong, a professor at the Beijing University of Civil Engineering and Architecture, who monitors the disposal of subsoil and construction waste.
Chen, who is also deputy director of the National Committee of Construction Waste Management and Recycling at the China Association of Urban Environmental Sanitation, said that in recent years the volume of construction waste has risen rapidly in line with the rise in the rate of urbanization.
"It (the construction waste) is an issue that has basically been ignored by the national and local authorities. Dumps and recycling sites usually don't feature in urban planning programs or city budgets," he said.
A study conducted by the association estimated that about 1.5 billion metric tons of concrete waste and 2 billion tons of subsoil have been generated this year alone.
In 2013, the volume of construction waste reached 1 billion metric tons, 74 percent of which came from demolition work, but only 5 percent was recycled for use as a resource, according to the National Development and Reform Commission's annual October report on the utilization of resources.
Chen said most of the nation's construction waste is randomly dumped in suburban areas, and there are no laws or regulations to control its disposal in urban areas. "About 50 percent of cities have still not drafted any regulations on the issue," he said.
"It hardly occurs to most local authorities that dumping facilities for construction waste should be considered part of the city infrastructure, and should be included in their annual budget," he said.
Land at a premium
In 2012, Shenzhen became the first city in China to impose regulations on the disposal of construction waste, according to Chen. However, the regulation, drafted by the Municipal Bureau of Urban Management, was only valid for three years, and ceased to be effective in February. The city has yet to propose new regulations on the management of dumping sites.
Even though Shenzhen is considered to be ahead of most cities in its handling of waste from building sites, "the fact that the regulation was not renewed indicates that the issue of construction waste is still not being given due attention", Chen said.
The Shenzhen Urban Management Department said that as of May, the city had five dumping facilities for construction waste, with a combined capacity of about 45 million cubic meters. There are also three separate waste-recycling facilities, which can deal with 3 million tons of material every year.
Waste dumping has become a pressing concern in Shenzhen. In 1980, the then-sleepy fishing village became the site of China's first special economic zone. In the past 30 years, Shenzhen has been transformed into a major industrial center, but extensive construction projects have left the city desperately short of land.
Statistics from the Shenzhen Environmental Health Department show that the city produces approximately 30 million cu m of construction waste every year, but Chen estimated that only about 50 percent of the waste is recycled, while almost all the subsoil is dumped.
The city is planning to construct 11 new subway lines within the next 15 years, but the project manager of a subway line under construction said illegal dumping is a major problem.
"Subway constructors usually pay transportation companies to transfer waste subsoil to designated dumping sites. It usually costs about 400 yuan ($60) to transfer each truckload of waste soil," he said, speaking on condition of anonymity. "The transportation company can also resell the waste soil and earn a bigger profit," he said, adding that some constructors choose to dump waste illegally because it is cheaper or the site is nearer.
Chen, from the Beijing University of Civil Engineering and Architecture, said the construction of a large number of skyscrapers in Shenzhen, along with exploration of underground space, including rail transit lines and underground infrastructure, has produced such a large amount of subsoil that local dumping sites are unable to process it.
"Skyscrapers use a vastly different architectural structure compared with buildings with only five or six floors. The soil is replaced during the construction of lower-level buildings, but the underground floors of skyscrapers usually go dozens of meters into the ground," he said.
A professor from the College of Civil Engineering at Shenzhen University, who preferred not to be named, said that in the past there were two primary methods of dealing with construction waste - using it for land reclamation at sea, or as a medium to level land.
However, ecological concerns have prompted tougher regulations on 'sea filling", while the volume of construction waste has swollen so much that the previous disposal methods are no longer adequate for the task, he added.
An engineering manager at Shenzhen Zhongwang Engineering Management, who declined to give his name, said the waste-disposal system needs to be overhauled. "Currently, the dumping of construction waste is in disorder. It's mainly driven by the profit motive. Governments have a responsibility to regulate when, where and how this waste is dumped," he said.
Lack of supervision
Many experts said the disposal of construction waste nationwide is an even more pressing problem than in Shenzhen, where it has at least received official attention.
He Gengxin, a researcher at the Chinese Academy of Building Research, who researches disposal methods for construction waste, said the problem is widespread. "The fact is, the dumping sites in many first- and second-tier cities are already functioning beyond their capacities," he said.
According to Chen, there are very few barriers to the demolition of old residential communities, which means demolition work is carried out randomly: "Many cities are taking on a new look every three to five years as the rate of urbanization quickens."
In February, Xinhua News Agency reported that Beijing planned to demolish approximately 15 million sq m of illegal buildings this year to improve urban management. According to Chen, that program alone could generate 15 million tons of waste in the capital by the end of the year.
A property developer surnamed Wu, from Mianyang, Sichuan province, said local construction companies can use an information-sharing platform to post details of the waste they have generated and then sell it to other developers, such as road builders, for use in their own projects. Companies that don't dispose of the waste in this way have to dump it at privately owned sites at a cost of about 5 yuan per cu m.
The platform operator acts as an intermediary between supply and demand sides. "He pays you for the waste and then sells it other engineering projects. If not, he helps you transfer the waste and earn money from transporting it," Wu said.
Future concerns
The Shenzhen landslide has prompted safety checks at dumping sites across the country.
The Shanghai government has ordered all ongoing construction sites, including those for real estate and subways, to assess and overhaul the ways they dispose of construction trash.
"By Wednesday, the city and district-level administrations of forestry and landscaping, which oversee the disposal of building waste in their areas of jurisdiction, had checked all 238 construction sites in the municipality. They didn't find any signs that construction waste has been piled too high," said Xu Wei, a spokesman for the Shanghai Municipal People's Government.
In Shanghai, construction waste is mainly used to backfill low-lying land, rivers and ditches, and to promote recycling and utilization it is also used in local landscape architectural projects.
According to Shen Sanxin, chief engineer at Shanghai Zhuzong Group Construction Development, the urban management department imposes administrative penalties on designated transporters of building trash who dispose of it in unauthorized ways or who cause pollution by failing to transport the waste in sealed containers.
"In June, the city authority said it would increase the number of surveillance cameras to build a stronger monitoring network," Shen said.
However, Chen said the only long-term solution to the problem lies in greater use of recycled waste from construction sites. "First, there should be nationwide legislation on the disposal of construction waste to prevent random dumping and encourage recycling," he said, adding that developers should regard construction waste as a ready-made resource for recycling.
"Given the volume of waste generated every year, it's impossible to dump all of it," he said.
Based on the current rate of generation, every urban area in the city would be covered by construction waste within 300 years, but local authorities have little motivation to build dumping and recycling facilities because they generate very little money, according to Chen.
"Constructing new buildings is like building a kitchen, while building site for dumping and recycling is like building a toilet. At the moment, everybody wants the kitchen, but nobody wants the toilet," he said.
Contact the writers through xuwei@chinadaily.com.cn