More aid from China set for Syria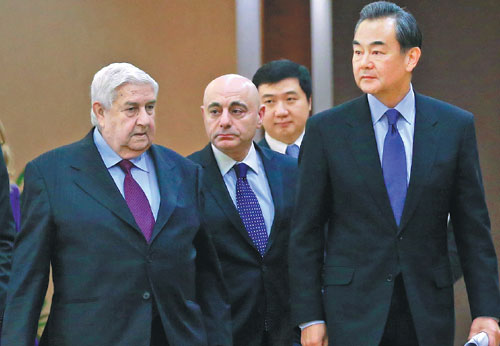 Foreign Minister Wang Yi (right) joins his visiting Syrian counterpart Walid al-Moallem for a media briefing in Beijing on Thursday. Feng Yongbin / China Daily
China announced on Thursday that it would extend an additional 40 million yuan ($6.18 million) in humanitarian aid to Syria.
Foreign Minister Wang Yi made the announcement at a joint media briefing with visiting Syrian Foreign Minister Walid al-Moallem, who will be in China through Saturday.
"As a permanent member of the United Nations Security Council, China will continue to promote peace and dialogue in Syria and offer humanitarian aid to the country to the best of its abilities," Wang said.
Al-Moallem told reporters the Syrian government is ready to participate in peace talks in Geneva aimed at ending its civil war.
"Syria is ready to participate in the Syrian-Syrian dialogue in Geneva without any foreign interference," he said.
"Our delegation will be ready as soon as we receive a list of the opposition delegation."
Such comments appeared to be the first time Damascus has responded favorably to a new round of peace talks since the beginning of the Vienna peace process in October.
The remarks came after the UN Security Council gave unanimous support last week to a resolution calling for a ceasefire, talks between the Syrian government and opposition to begin in January, creating a unity government and holding elections.
"We hope that this dialogue will be successful in helping us to have a national unity government," al-Moallem said.
He added that Damascus would "compose a constitutional committee to look for a new constitution with a new law of election so the parliamentary election will be held within the period of 18 months, more or less".
Both foreign ministers also expressed support for fighting terrorism. Al-Moallem called on the Security Council to help block the funding of terrorism and stop terrorists from getting into Syria.
Yin Gang, a researcher of Middle East studies at the Chinese Academy of Social Sciences, said it is the right time to settle the Syrian issue through political channels.
Former Chinese ambassador to Iran Hua Liming said the political settlement of the Syrian issue has "come to a turning point".
"Aside from the Syrian government, foreign forces including the United States, Russia, Saudi Arabia, Turkey and Iran all wish to see an early settlement of the issue, and they have stopped talking about overturning the Syrian government."
Agencies contributed to this report.
lixiaokun@chinadaily.com.cn