Ex-president caught in corruption net
Former Honduran president Rafael Callejas left in a private jet for the United States on Monday to face charges raised as part of the FIFA corruption scandal.
Callejas, 72, was president of Honduras from 1990 to 1994 and head of Honduras' soccer federation until August this year. He is a current member of FIFA's television and marketing committee.
US authorities this month accused him and 15 other defendants of racketeering, fraud and money laundering, much of it related to alleged bribery in attributing TV and marketing rights to FIFA games, especially in Latin America.
Callejas is accused of receiving $1.6 million in bribes between March 2011 and January 2013 for broadcast rights of games played by the Honduran national team.
He has denied the charges.
According to a statement from the foreign ministry, Callejas flew out of the Honduran capital, Tegucigalpa, and was not accompanied by any Honduran or US official in the plane.
The US allegations against Callejas and the other defendants were made public on Dec 3, the same day Swiss police in Zurich arrested two FIFA vice-presidents in Zurich.
One of them was Alfredo Hawit, Callejas' successor as chief of Honduras' FENAFUTH soccer federation and head of FIFA's CONCACAF confederation that oversees the sport in North and Central America and the Caribbean.
The other official arrested, Juan Angel Napout, a Paraguayan, was head of FIFA's South American confederation CONMEBOL. Napout last week agreed to be extradited to the US to face the charges.
Hawit had taken the helm of CONCACAF to replace Jeffrey Webb, a former FIFA vice-president who was indicted last May and charged with corruption by the US Justice Department along with 12 other FIFA officials and marketing executives.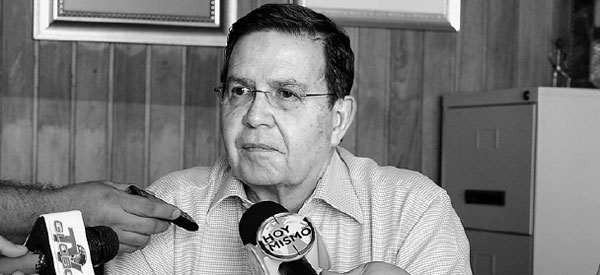 Rafael Callejas, president of Honduras from 1990-94, is facing charges related to the FIFA corruption scandal. Orlando Sierra / Agence France-Presse