Queens Library, one of the largest in the world by circulation, will look to meet the demand for more China-related material in the new year.
A new cultural program series on China was announced jointly on Dec 11 by the library and the Chinese Consulate General in New York.
The program titled China Today, planned by the library and funded by the Consulate General, involves Chinese books, China-themed exhibitions, Chinese folk art workshops and Chinese film screenings.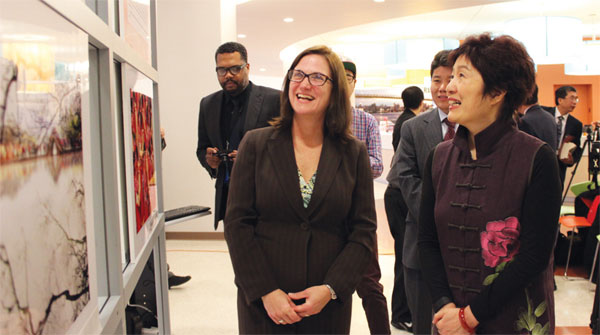 Bridget Quinn-Carey(left), Queens Library Interim President and Zhang Qiyue, Chinese consul general in New York, browse the photographic exhibition Tempo of China at Queens Library in New York on Dec 11. Hong Xiao / China Daily
"I want to congratulate Queens Library for organizing this program," Zhang Qiyue, Chinese consul general in New York, said at the launch ceremony at the library in Jamaica, New York. "I think it's very important because more and more readers today want to know more about China and of course at the same time, Chinese people want to learn more about the United States, about New York City and about Queens."
A photographic exhibition titled Tempo of China kicked off the program on the same day.
The exhibition features some 60 works selected from entries submitted by more than 1,000 professional and amateur photographers around China.
Also on that day, the Chinese Consulate General brought more than 100 Chinese- language books to the library, which was not the first time: In June, the consulate donated more than 1,000 Chinese-language books.
Bridget Quinn-Carey, Queens Library interim president, said that more than 200,000 people of Chinese descent live in Queens County, and many more visit and work in the borough every day.
"... Now we have additional materials to promote cultural understanding," Carey said. "Your donation will be made available to students, scholars and researchers from all over New York City through Queens Library."
Queens Library has a long-standing relationship with China. In 1997, the library signed the first international library agreement with the National Library of China and with the Shanghai Library.
For many years, they exchanged books and videos, exhibits and assisted each other with obtaining library materials and cataloging.
In the 1990s they hosted popular exhibits on Chinese printing and book-making, which allowed New York City residents to learn more about the culture of China.
"We are very pleased to see the partnership between our two countries grow," Carey said. "Through knowledge, reading and library programs, we come to understand and appreciate each other."
"Today, the US-China relationships are really the most important bilateral relationships; there is so much going on, whether in business, in cultural and in everything," Zhang said. "But for us, I think the most important relationship is the people-to-people relationship.
"We are so happy that as the Chinese Consulate General, we can contribute to this part of the community life," she added.
Queens Library was founded in 1858. Comprising 63 branches, it has become one of the largest public library systems in the United States.
xiaohong@chinadailyusa.com