With beautiful music and a moving story, the Tibetan film River came to Lhasa, capital of the Tibet autonomous region, on Thursday.
Written and directed by Tibetan filmmaker Sonthar Gyal, River was named Best Youth Feature at the 9th Asia Pacific Screen Awards in Brisbane, Australia, in November. It made its world premiere at the Berlin International Film Festival earlier this year, winning the award for Best Picture.
River is the touching story of a young Tibetan girl. Sonthar Gyal, 41, was recognized for depicting a child's special vision of humanity through expressions at once serene, spiritual and cinematic.
The film has won more than 13 awards domestically and overseas since it completion.
The Sun Beaten Path, Sonthar Gyal's debut feature film in 2011, was the winner of the Vancouver International Film Festival's prestigious Dragons & Tigers Award for Young Cinema.
He shot River over a three-year period, capturing all four seasons to tell the moving story of a young girl, portrayed by Yanchan Lhamo, on the Tibetan Plateau.
The film follows her as she escapes her family troubles by tenderly caring for an orphaned lamb.
"Born as a nomad on the remote grassland, I had very few opportunities to watch a film as a child," Sonthar Gyal said. He said he watched mobile film projectors being transported by horses as a child, but the films that came were in Chinese.
"Though I didn't understand the language, I loved the characters," Sonthar Gyal said.
Since graduating from Beijing Film Academy, he has worked as a cinematographer and artistic director of a series of Tibetan films and documentaries, including Pema Tseden's The Silent Holy Stones, The Search and Old Dog.
In addition to his roles in those films, he has written and directed two of his own films.
Sonthar Gyal thought that the scripts and the "soul" of the content were key reasons for his successes.
"In the past, there were many films on Tibetan culture and life, but they were not in Tibetan dialogue or with Tibetan actors," he said. "Tibetans tell Tibetan stories themselves; it is our characteristic, and I am proud of it."
Produced by the Garuda Film & TV Culture Communication Co, River and The Sun Beaten Path are expected to be released in China for TV and online distribution in early 2016, according to the company.
Huang Xiaorong, 28, a member of the audience in Lhasa, said of River: "It is really shocking to watch the mood of Yanchan Lhamo in the film. The whole process struck me, and it is touching to see the relationship between father and son, daughter and father, the couple, and between the three generations."
She said she is has not tired of watching the film and has seen it three times. She especially likes the final scene.
Contact the writers at palden_nyima@chinadaily.com.cn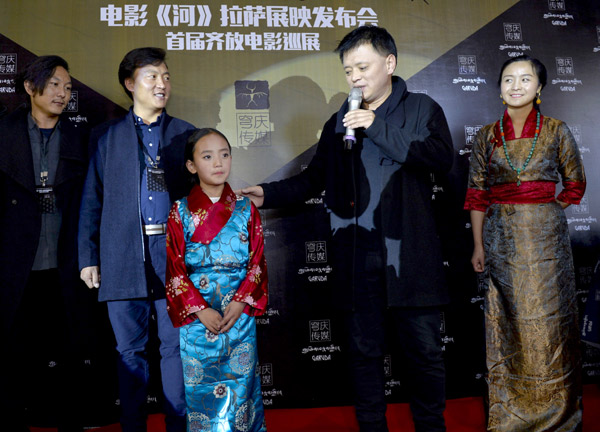 Sonthar Gyal (second from right), director of River, attends the Lhasa premiere of the film on Thursday. Liu Dongjun / Xinhua