A star afoot
Tragedy in Sichuan propelled a Chinese dancer to New York and a stellar career with the Martha Graham Company. Chen Jie reports.
If not for the earthquake on May 12, 2008, Xin Ying would still enjoy a smooth life in the small and scenic town of Mianyang in Southwest China's Sichuan province, teaching dance at the Sichuan College of Culture and Arts.
But overnight the earth shook, and many of her students, friends and acquaintances were gone. The magnitude-8.0 earthquake killed more than 69,000 people. As a survivor, she volunteered to help in the hospitals.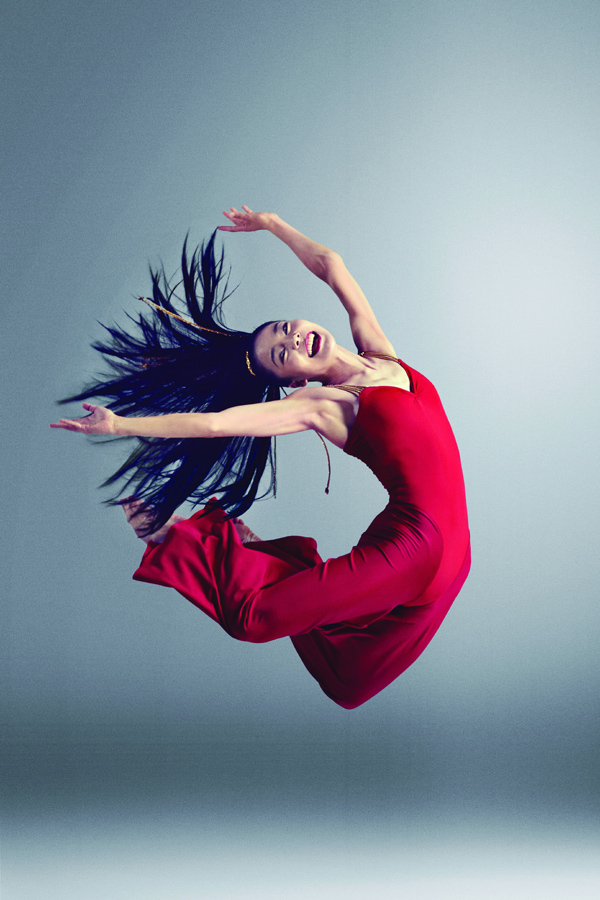 "The dead bodies were carried in and out. Wounded people lay everywhere. The air was full of grief-stricken crying. I could not breathe and suddenly realized that life is too short," recalls Xin, who was then 23.
The catastrophe made Xin decide to take a big step.
In August 2010, she applied to the Martha Graham School of Contemporary Dance in New York and one year later, she passed an audition to join the company.
Today she is the only Chinese dancer with the prestigious company. In its latest China tour of Shanghai, Beijing and Tianjin from Oct 28 to Nov 7, she kicked off the performance with the solo piece Deep Song and also danced in Lamentation Variations, Chronicle and Rite of Spring.
Deep Song was created by Martha Graham (1894-1991) for herself, premiering in New York in 1937.
"Xin is a beautiful dancer and she has the combination needed for a Martha Graham dancer," says Janet Eilber, artistic director and former principal dancer of the company.
"She has very muscular, powerful physical technique, and she is a wonderful actress. She can be slow and powerful, and she can be fast and funny. Deep Song is a response to the Spanish Civil War, so she performs a very emotional, grief-stricken role.
"And of course, she is a wonderful representative for us touring China," Eilber tells China Daily.
Born in 1985 in Yichun, in Northeast China's Heilongjiang province, Xin loved dancing when she was about 5 years old, just like many little girls.
But her mother sensed she was not just a girl-next-door type, who loved dancing for fun. She found a teacher in the provincial capital, Harbin, and sent the 7-year-old Xin to live with a host family some 700 kilometers away to learn traditional Chinese dance.
In 1997, she went to receive further training at a dance school in East China's Shandong province. In 2000, she was admitted by the first choreography class in Nanjing University of Arts where she learned contemporary dance and became aware of Martha Graham. The American modern dancer-choreographer's influence on dance has been compared with the influence of Picasso on modern visual arts and of Stravinsky on music.
After graduation in 2004, Xin joined the faculty of Sichuan College of Culture and Arts.
In August 2010, she gained a full scholarship to the Martha Graham School in New York. After another year of hard work and training in all kinds of dance, Xin became a member of the Martha Graham Dance Company.
Xin's life in New York started from a small studio at West 34th Street. The first few months were hard, since she had no friends and could not speak English.
"When I went to do laundry, I could not even tell which was detergent and which was softener," she recalls.
"New York is such a busy city where excitement mixes with indifference. People with earphones walk fast in the street. Every day you could hear bizarre stories."
On sleepless nights, she rode a bicycle along the Hudson River, finding many like herself who cycled or jogged alone.
But whenever she entered the rehearsal room, she relaxed and became focused. That's not only because dancers come from different countries and races, but also they all come for the same purpose.
In her youth, she says, she mostly just learned technique and copied the coaches' gestures or movements. Though she loved dancing, "I just received everything passively", she says.
"But in the Martha Graham School and Company, the feeling is so different. Everybody knows clearly what he or she wants and why he or she dances. And everybody dances aggressively and passionately. I feel I am absorbing nutrition every minute.
"Martha Graham used to be a name in my college books. But now I really dance with coaches such as Eilber who once worked closely with her. The feeling is like myself becoming part of the history of contemporary dance."
When Xin starts a new piece, she first watches videos to see how Graham danced or how other dancers performed. Then a coach would teach her the technique and choreography, but would also help her draw out her own feeling and understanding of the piece.
"Dance is a living thing, though Graham's works are classical and many fans would remember the choreography. We are encouraged to present our own interpretations and give them new life," she says.
Xin's performances led to her promotion to soloist early this year. She has also opened a course at the Beijing Dance Academy to teach the Graham technique.
"The key of the Graham technique, contraction and release, is somehow linked to Chinese qigong (the ancient Chinese practice of slow movements and breathing exercises). Her spirit of struggling in hardship is also close to Chinese people's experience," says Xin.
Graham met Mei Lanfang (1864-1961) when the Peking Opera icon visited the US in the 1930s and she drew on some movements from Peking Opera such as "woyu" (a basic skill for actresses to lie down elegantly) and walking like a dwarf for her own works, Xin says.
Xin's next dream is to become a principal dancer of the company.
"I also hope to work with Chinese choreographers," she says, noting that the Martha Graham Dance Company works with many talented choreographers from around the world.
Bulareyaung Pagarlava from Taiwan, for example, choreographed one piece of Lamentation Variations, an ongoing project in which the Martha Graham Company commissions choreographers to create on Graham's work Lamentation to commemorate the anniversary of 9/11.
"If you dream, dream big. I believe the Graham Company will dance big works by Chinese choreographers one day," she says.
Contact the writer at chenjie@chinadaily.com.cn