Sharapova savors Fed despite loss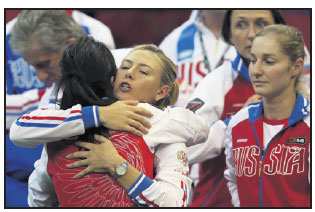 Russia captain Anastasia Myskina (left) hugs Maria Sharapova after their team's 32 Fed Cup loss to the Czech Republic in Prague on Sunday. David W. Cerny / Reuters
Maria Sharapova failed to lift the Fed Cup as Russia lost to defending champion Czech Republic in Prague on Sunday, but she did her patriotic duty and said she enjoyed it.
In only her fifth Fed Cup appearance, world No 4 Sharapova won both singles matches, beating 11th-ranked Karolina Pliskova in straight sets on Saturday and sixth-ranked Petra Kvitova in a three-set thriller on Sunday.
"Personally, it's an incredible achievement for me because I've never been in a Fed Cup final and I won two of my matches," Sharapova said.
After winning five Grand Slam titles, Sharapova is still seeking two other global trophies - the Fed Cup and Olympic gold.
Next year, she will be in contention for the Olympic title, after winning bronze in London 2012, representing Russia despite having lived in Florida since age seven.
"There's no better feeling than being out on the court, having so many people fly here from Russia to support you," Sharapova said on Sunday.
"In an event like this you're just not playing for yourself, you're playing for your teammates, for your country. It's a very unique feeling and it's so special."
Yet questions over her team spirit continue to follow her.
Sharapova has played only five Fed Cup ties since earning professional status in April 2001, two of which were this year.
A decade ago, she was involved in a rift with her teammate and now Russia captain Anastasia Myskina, who threatened to boycott the Fed Cup if Sharapova was selected for the Russian team, complaining about her father's behavior in the stands.
Myskina, the 2004 French Open champion, also slammed Sharapova for being "more American than Russian," accusing her of speaking Russian "with a coarse accent."
Former fellow Russian player Elena Dementieva once said Sharapova "grew up in America and trains there, so we don't have anything in common."
This week, Myskina said she was happy to have Sharapova on the team.
"Definitely it's very important to have Maria on the team and I want to say thank you to her," Myskina said.
Adding fuel to the fire, Czech media said Sharapova shunned the rest of the team and stayed in a different Prague hotel.
"Is that a serious question? Next question," Sharapova snarled at a local reporter when asked to comment.
On court, she was all smiles, and not only because she won twice.
"The team supported me so well today," she said. "I really felt like I would look over to them and every time they are standing up and that's the meaning of this event."
On Sunday, her previous problems appeared to be behind her with the star joining her teammates for a post-final dinner.