UAE takes 5 Yemenis from Guantanamo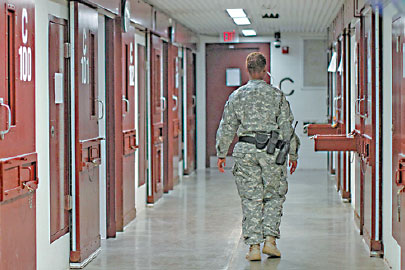 A guard patrols a cellblock inside Camp V, a prison used to house detainees at Guantanamo Bay US Naval Base in Cuba. Bob Strong / Reuters
The United States has transferred five detainees from Guantanamo Bay to the United Arab Emirates, the Pentagon said on Sunday, another step in a long-delayed plan to close the controversial military prison.
The move means that 107 detainees remain at Guantanamo Bay, the Pentagon said in a statement, adding that it was "grateful to the government of the United Arab Emirates for its willingness to support ongoing US efforts to close the Guantanamo Bay detention facility".
The men were "lower-level" Yemeni detainees and each had been held for nearly 14 years without charge, The New York Times said.
The UAE had previously taken in just one former Guantanamo detainee - a citizen of its own - in 2008.
The United States opened Guantanamo to hold terror suspects following the Sept 11, 2001, attacks, and photos of shackled men in orange jumpsuits became a defining image of US foreign policy in the early 2000s.
Inmates were called "enemy combatants" and denied standard US legal rights, meaning many were held for years without charge or trial.
The Guantanamo population has dwindled, and prisoners no longer deemed a risk have either been repatriated or sent to a host country.
The Guantanamo prison costs the US taxpayer around $400 million to $450 million annually.
"We coordinated with the UAE government to ensure these transfers took place consistent with appropriate security and humane treatment measures," the Pentagon added, saying the five had been cleared for transfer after thorough security reviews.
Back to battlefield
Some figures have estimated that up to 30 percent return to militant groups with the aim of carrying out attacks on Western targets.
But a US official said that figure includes both confirmed and suspected cases. He said 16 percent of freed inmates were confirmed to have returned to the battlefield, while 12 percent are suspected of having done so.
The latest transfers come with the Pentagon poised to release a much-anticipated report on shutting down Guantanamo Bay, even as Congress battles to block the transfer of the military prison inmates from eastern Cuba to US soil.
AFP - AP - Reuters