Phelps picking up right where he left off
Back in the pool and back out in front, Michael Phelps pulled away from the rest of the field with a dominant swim in the 200-meter individual medley on Saturday.
It was his first victory in the three-day Arena Pro Swim Series that serves as the start of the gear-up for the 2016 Rio Olympics.
That he was nowhere near satisfied with his performance indicates he is rediscovering the competitive fire that made him the winningest athlete in Olympic history.
Phelps led from start to finish in 1 minute, 59.30 seconds at the University of Minnesota. He finished more than one second ahead of fellow Olympian Conor Dwyer (2:00.73) - but was left lamenting all the mistakes he made.
"I'm happy that I was about where I was at the end of last season before nationals," Phelps said. "And it was still with a terrible last 50 and a bad finish."
The event was the kickoff to a seven-city tour that is part of the buildup to the Summer Games.
On the final night of swimming at the series, Simone Manuel bested a star-studded field in the women's 100 freestyle with a time of 54.19 seconds. Manuel used a strong final 50 meters to beat Abbey Weitzeil and Allison Schmitt in a field that also included Olympic champions Katie Ledecky and Missy Franklin.
Phelps finished second in the 200 butterfly and third in the 100 fly earlier this week as he continues to work his way back from a brief retirement that came after the 2012 London Games.
The 18-time gold medalist was barred from the world championships in Russia after his second impaired driving arrest, but has since recommitted himself to the sport he dominated for so long.
He was overpowering at the national championships in August and left Minneapolis saying he would "continue to take baby steps" as he ramps up to compete as a 30-year-old in Rio.
"I think coming off of this it's really just working on all the small things," Phelps said.
"We've gotten to the point where we're really in shape again. Now it's just paying attention to hitting the walls right and the finishes."
The circuit this season features $350,000 in prize money, with $1,000 for first place, $600 for second place and $200 for third place in each event.
The overall winner for each gender for the entire seven-event series will get $10,000.
"I'm just kind of having fun and really just enjoying it," Phelps said. "But it feels good to be picking up where we left off at the beginning of last year."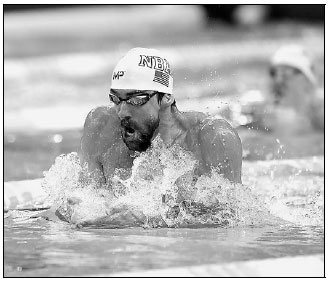 Michael Phelps swims the breaststroke in the 200m individual medley final of the Arena Pro Swim Series on Saturday at Jean K. Freeman Aquatics Center in Minneapolis, Minnesota. Hannah Foslien / Getty Images / AFP