One of the world's leading medical journals can tell the world about China's achievements in medicine, its editor says
Richard Horton has had a key role in explaining China's health sector to the world, through the pages of his magazine.
The Lancet, one of the world's leading medical journals, started working with China in 2008, but Horton, its publisher and editor-in-chief, says he and his colleagues had begun to take an interest in the country earlier as they realized that China's rapid economic growth was likely to have an impact on health.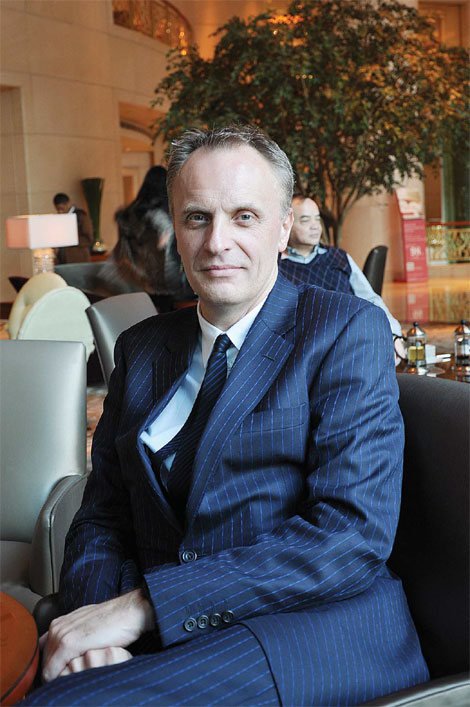 The Lancet's publisher Richard Horton has worked closely with Chinese medical experts and healthcare officials since 2008. Liu Xiangrui / China Daily
Horton, 54, has worked with the journal for more than 20 years. He is an honorary professor at several European universities and is on an advisory board for the World Health Organization's Africa office.
he recently won the Friendship Award, China's top honor for foreigners who make a substantial contribution to the country's development.
He was in Beijing to receive the award recently and to attend a conference organized by the Lancet and the Chinese Academy of Medical Sciences.
The journal, based in London, will publish 100 pieces of research by Chinese scientists to help people worldwide understand China's latest developments in medicine.
In 2008, the Lancet worked with the China Medical Board to publish a series of papers on the progress of the country's healthcare reforms and analyzed the status of the health system as well as future challenges.
The collaboration turned out to be a "superb launch", Horton says, adding that it encouraged the journal to develop a long-term relationship with China.
"We had such a positive experience of working with Chinese colleagues, who were clearly enthusiastic to have international collaborations," says Horton, who is also an adviser to Fuwai Hospital in Beijing.
In recent years, he says, the number of research papers that Chinese experts have submitted to the Lancet has grown greatly, and China has become the third-biggest country after the United States and Britain in the number of papers submitted.
"It's evidence that China is growing massively in terms of its scientific power."
In 2008, the journal began publishing a special annual issue on China and set up its only office in Asia, in Beijing, two years later. Since then it has served as a bridge for academic exchanges between Chinese and foreign experts in healthcare.
Horton has written 10 reports on China, based on interviews with government officials and experts, including Chen Zhu, a former health minister, and Cao Xuetao, an academician at the China Engineering Academy.
"There are many countries in the world that are struggling to achieve what China is achieving," Horton says. "By studying China the Lancet can be a bridge between China and the rest of the world to tell that story."
He says he is impressed by China's progress toward universal health coverage and its success in reducing child mortality by 70 percent since 1996.
On his visits to China, Horton has also developed personal relationships with professionals, including Cao, both helping with the organization of the recent conference in Beijing.
It is likely to become an annual event, Horton says.
"The Lancet is always developing new relations with Chinese institutions."
Horton is excited that his journal recently began to work on papers on climate change and health with Tsinghua University, the first time the Lancet has entered a joint project with a Chinese university.
The journal's rapport with officials, doctors and scientists in China taking on such projects.
Horton says the Lancet has received letters from Chinese doctors reporting incidents of violence against them and describing the pressures they are under.
He has compared the problem to a child's growing pains.
"China has become a very successful nation, taking hundreds of millions of people out of poverty in a short period of time. That is a huge leap. The result is it's very hard for government and health professionals to meet the huge expectations of the public immediately. It's causing pain, and this is a real challenge."
Among the other issues relating to healthcare in China that preoccupy Horton include the system's heavy dependence on hospitals instead of primary healthcare, and public health issues such as smoking and pollution.
The problems can be resolved only by government action, and the next Five-Year Plan (2016-2020) presents the chance to do that, he says.
In the past, Horton and his Chinese colleagues have held workshops in China to train medical professionals on writing research papers and publishing them in foreign journals.
Horton says of his receiving the Friendship Award: "It was a great privilege for me to meet Premier Li Keqiang and hear his words. I was very moved by his emphasis on the importance of collaboration and his invitation to international friends to work with Chinese colleagues and support the nation's development."
The Lancet, in addition to continuing to publish reports on China and holding the joint annual conference, looks forward to continuing to work with Chinese universities and hospitals, Horton says.
"Our focus in the past has been very much on Beijing and Shanghai. We have to lift our eyes and look across the country now."
On frequent trips to China, Horton says he has developed a taste for local cuisines and liquor.
"I'd love to understand more about Chinese culture in the future."
liuxiangrui@chinadaily.com.cn