Charity law will encourage donors, experts say
Improving China's charitable organizations will encourage more donations, experts and lawmakers said.
"China's modern charity business just began," said Tao Chuanjin, director of the Research Center of Philanthropy and Social Enterprise at Beijing Normal University.
The recently proposed draft law to improve China's charity industry marked a milestone, Tao said.
Tao responded to the 2015 CAF World Giving Index, a recent study of global generosity released by the London-based Charitable Aid Foundation on Tuesday.
The study found that Chinese people were reluctant to donate money to charities or volunteer their time and ranked China second from the bottom this year, above Burundi.
The study surveyed 145 countries this year, representing around 96 percent of the world's population of around 5.1 billion people. Data were provided by Gallup, which interviewed more than 150,000 people last year.
"Chinese are not usually keen to donate money to strangers, but when disasters occur their enthusiasm rises," Tao said.
"For example, during the Wenchuan earthquake people made donations generously."
The professor said that traditionally, Chinese people asked for help from family, friends and neighbors but rarely sought help from strangers or charity organizations.
"The government carried out the responsibilities of the charity business before," Tao said.
"But now, the power has gradually been distributed to society."
In late October, the Standing Committee of the National People's Congress released the charity draft law at its bimonthly session. It highlights the importance of the transparency of charitable organizations and clarifies what such an organization is and what responsibilities it should adopt.
As total annual donations have increased to 100 billion yuan ($15.73 billion) from less than 10 billion yuan in 2005, embezzling and other scandals have arisen in the industry.
"This is why we are strongly calling for its regulation through legislation," said Tian He, a legal researcher at the Chinese Academy of Social Sciences' Institute of Law.
Contact the writers at luowangshu@chinadaily.com.cn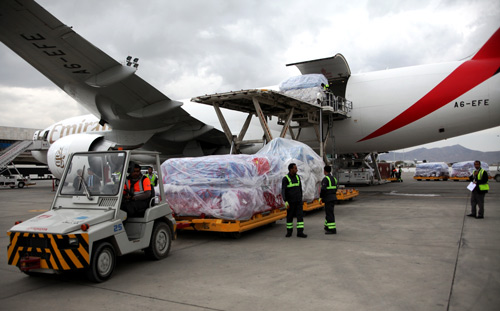 Workers unload disaster relief supplies that China donated to Afghanistan at the Kabul International Airport earlier this month after the country was hit by a 7.5-magnitude earthquake on Oct 26. Xinhua