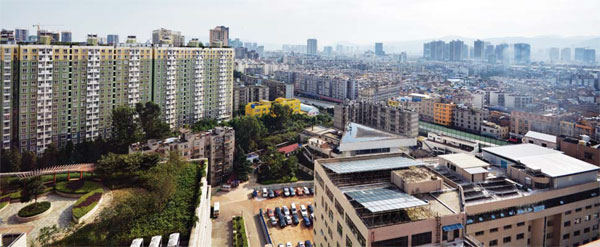 Kunming, capital of Yunnan province in southwestern China. The city is at the heart of plans to transform the region into a gateway to South and Southeast Asia.
Kunming in southwest China may turn into Southeast Asia's 'commercial capital' on the back of huge infrastructure deals
The pace at which Kunming, a Chinese metropolis that neighbors three Southeast Asian countries, is developing may soon earn it the title of "commercial capital" of Southeast Asia.
As the capital of the southwestern province of Yunnan, which borders member countries of the Association of Southeast Asian Nations - Myanmar, Vietnam and Laos - the city is at the core of all national business plans in relation to Southeast Asia.
Projects including high-speed rail, a mega container terminal, a huge expressway and inland ports have been initiated to connect Kunming to Southeast Asian cities, part of Beijing's Belt and Road Initiative that will impact 4.4 billion people and, within a decade, aims to generate trade above $2.5 trillion.
If the projects go according to plan, "Kunming will soon be the commercial capital of ASEAN with its strategic location and economic ties", says Ying Zhu, director of the Australia Centre for Asian Business, University of South Australia.
Chinese President Xi Jinping proposed the Belt and Road Initiative - two major infrastructure projects to revive ancient trade routes between China and the West, during a trip to Indonesia in October 2013.
The land-based Silk Road Economic Belt and sea-based 21st Century Maritime Silk Road seek to further integrate the region into a cohesive economic area through the building of infrastructure and broadening trade.
Kunming is at the heart of the modern Silk Road, the route that extends all the way to Thailand and Indonesia. The landlocked Chinese city has been optimizing the land routes by expanding the Kunming Railway Container Center and building a high-speed rail center at Kunming South Station.
Dubbed the Eternal Spring City for its year-round temperate climate and breathtaking scenery, Kunming was left out of the massive development drive that was seen in the eastern part of China during previous decades.
But now, Beijing has shifted gears to transform the region into a gateway to South Asia and Southeast Asia.
A report released this year by the city government said 340 billion yuan ($54 billion) has been allocated under the Comprehensive Transportation Campaign program to accelerate construction, especially on the city's metro, railway and highway systems, over the next five years.
The convergence of the 7,000-kilometer Singapore-Kunming Rail Link is already taking shape, with the recent deal between Thailand and China to construct the Thai section of the route giving it a big boost. Laos and China have also reached a deal on a rail project that will link the Laotian capital, Vientiane, with Kunming.
"Kunming is the southern gate of China toward the ASEAN, and connecting Kunming with other major capital cities in the region will enhance the economic and strategic closeness between China and the ASEAN," Zhu says.
"In addition, it will open a new sea-land pathway for China toward the Indian Ocean and Middle East."
The China-Thailand portion is 867 km long and will connect northeast Thailand's Nong Khai province, Bangkok and the eastern Rayong province.
The railway is forecast to add more tourists every year and will provide further convenience to its exports. Upon completion, the Singapore-Kunming line will link Kunming with all the capitals of mainland ASEAN members, except Malaysia, as the line bypasses Kuala Lumpur on its way to Singapore.
It should not be lost on potential investors that the ASEAN has a combined population of 600 million, is the seventh-largest economy in the world, and has an average annual GDP growth rate of around 6 percent. Yunnan province has a population approaching 50 million and an economy that grew at above China's national average at just over 8 percent in 2014.
Soaring GDP
In 2013, Kunming's GDP reached 341.53 billion yuan, up 12.8 percent year-on-year. It accounted for about 29 percent of the province's total. The service industry's GDP accounts for 49.9 percent of the city's total figure.
It makes perfect sense for the Chinese government to focus on developing the nation's economic, infrastructure and cultural links with ASEAN through Kunming, says Alex Malley, chief executive of CPA Australia, a professional accounting body.
"Stronger links between the two economies make them even more attractive locations for investment," Malley says. "If looking at Kunming alone, businesses will find the city has very good road, rail and air links to the rest of China."
Increased connectivity between Kunming and Southeast Asia will lead to increased trade and accessibility between consumers and producers of goods and services, which will stimulate industrial development between the two areas, says Mark Rathbone, Asia-Pacific capital projects and infrastructure leader of accounting firm Pricewaterhouse Coopers Singapore.
China is ASEAN's largest trade partner and ASEAN is China's third-largest trade partner. In 2013, China and ASEAN set a target to raise bilateral trade volume to $1 trillion by 2020.
"The geographies are symbiotic in existence and this will only grow with the increasing connectivity through transport infrastructure installation in the region. For example, the Kunming-Ruili-Myanmar Railway and the Singapore-Kunming Rail Link," Rathbone says. Ruili is a city on the border of Yunnan province, about 750 km west of Kunming.
Kunming should enhance mutual communication and coordination with ASEAN governments in setting industrial policies and plans, he adds.
The city has designated South Kunming Station as a hub from which Chinese trains will reach Myanmar, Laos, Vietnam, Thailand, Malaysia and Singapore as well as India and Bangladesh.
The station, expected to be finished next June, will also serve routes to other cities like Shanghai and Beijing. Once the project is finished, the travel time from Kunming to Shanghai will take only 8 hours (from the current 36 to 41 hours) and to Beijing only 9.5 hours (from the current 34 to 43 hours).
Kunming has the potential to contribute vigorously to the development of China, ASEAN and South Asia, says Rajagopal Dhar Chakraborti, head of the department of South and Southeast Asian studies, University of Calcutta.
"Kunming is ideally placed to take advantage of the increasing trade between India and China as relations between the two regional giants have improved," Chakraborti says.
The Bangladesh-China-India-Myanmar economic corridor, linking Kolkata, the capital of the eastern state of West Bengal in India, with Kunming, passing through Myanmar and Bangladesh, is nearly ready.
Energy pipelines
Kunming is not only about high-speed infrastructure, however. The construction of the parallel oil and gas pipelines between Kyaukphyu in western Myanmar and the city have brought about a win-win situation.
Yunnan province has alleviated some of the power shortage pressures and established reliable access to power supply, thereby attracting economic development, says Rathbone of PwC.
The pipeline contributes to Myanmar gaining access to cheaper domestic energy supplies and eases its gas shortages during periods of high demand. It has also put Myanmar's gas fields into development while, in return, allowing Myanmar to benefit from oil and gas export revenue.
Kunming is also the hub of Yunnan's agricultural industry. The Kunming International Flora Auction Trading Center sells flowers to traders from all over the world, hosting eight to 10 million deals per day in its large auction halls.
In early June, Kunming hosted the third annual China-South Asia Expo, which was bigger than previous events, in its newly built Dianchi International Convention and Exhibition Center.
Covering an area of 5.4 square kilometers, the facility ranks third nationwide and first in Southwest China, according to the expo.
In order to create new domestic industries within the China-ASEAN free trade zones, Rathbone says industry associations in Kunming and ASEAN nations must become active links to promote regional industrial connectivity and cooperation.
They must also promote information communication, capacity building, project cooperation and investment projects, he adds.
According to a report by real estate firm Jones Lang LaSalle, Kunming is one of China's second or third-tier cities to watch in the coming five years. The report was positive regarding Kunming's prospects as an investment destination, particularly for the hotel and tourism industries.
It grouped Kunming with Nanning, Changzhou, Hefei and Nanchang as "longer term winners".
Traditionally, the city has relied on favorable agricultural conditions to grow grain, oil-bearing plants and cured tobacco among others.
However, the development of advanced technologies has seen a diversification of the local economy and industries such as biotech, optoelectronics and information technology have contributed significantly to the city's economic development.
krishna@chinadailyapac.com