Dutch expertise stoking soccer hopes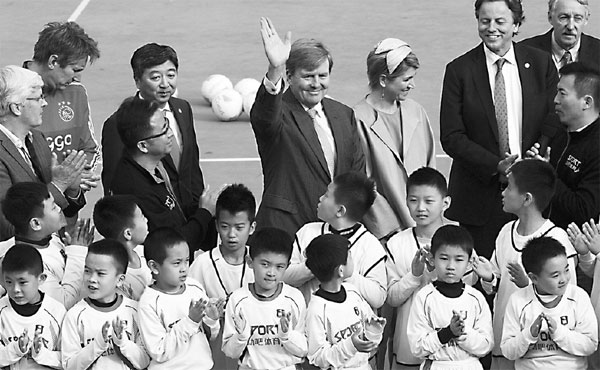 Netherlands' King Willem-Alexander waves next to his wife, Queen Maxima, as they attend a soccer training lesson at Shijia Primary School in Beijing on Sunday. Wei Xiaohao / China Daily
The Netherlands' renowned youth soccer training experts look set to help China produce its own future stars, with more Dutch coaches and junior programs to be imported to China.
The intense scene of 82 Chinese students shooting goals and dribbling under the guidance of former Dutch national star Edwin van der Sar at Beijing Shijia Primary School on Sunday was reminiscent of a youth practice session at the well-known Dutch professional club Ajax.
Such junior clinics, which feature the advanced Dutch youth system for training that has produced an abundant supply of international stars, including Wesley Sneijder and Arjen Robben, has reached out to almost 400 schools across China. The clinics instruct children and physical education teachers alike for better grassroots soccer development, thanks to the initiative launched by Sport8 International earlier this year.
The Netherlands' King Willem-Alexander visited the school on Sunday afternoon to interact with a dozen Dutch trainers hired by Sport8, and to encourage Chinese students to improve themselves under Dutch guidance. The king is on a five-day visit to China.
The session was another highlight of the joint proposal by President Xi Jinping and Vander Sar to strengthen soccer exchanges after a junior camp hosted by former Ajax manager Jan Olde Riekerink in Beijing in March. The proposal was made during Xi's visit to the Netherlands last year.
"China is very good in a lot of things, but football is lagging a little bit, so (the Ajax system) will take effect to help youth football development here with the exchanges of coaches ... It will be beneficial," said Van der Sar, the current marketing director for the Dutch club.
Aiming to become a world soccer power, China approved a national soccer reform plan in February inspired by Xi, setting a goal to increase the number of schools offering specialized soccer programs from the current 5,000 to 50,000 by 2025.
The lack of qualified youth training staff in China opened doors for the import of foreign expertise while boosting the business potential of a junior soccer market.
Bai Qiang, co-founder of Sport8, envisions a big surge in after-school soccer training services as a supplement to the already implemented soccer courses that are a mandatory part of the PE curriculum in Chinese primary and secondary schools.
"It's not enough for children to just practice on campus. They would also need more drills and guidance after school. The philosophy in Dutch soccer academies seems a natural fit in China, since it promotes soccer training as a tool for education, not just for athletic progress," said Bai.
Selected in the Nether-lands by Sneijder, another company co-founder, more than 40 Dutch coaches, including six employees on long-term contracts, have being visiting schools across China on a weekly or monthly basis to pass on their experience and skills to students and local trainers.
Jeffery Young, Sport8's soccer supervisor, expects that the combination of Dutch know-how and traditional Chinese education will work out very well for China in the future.
"I thought the idea of trying to educate trainers to have the top-down effect on grassroots football was the correct way to do it," said Young.
sunxiaochen@chinadaily.com.cn