Nicolas Sanchez has moved from a bit-part player in the French Top 14 to a central role in Argentina's charge into the World Cup semifinals.
The fly-half, 26, doesn't cut the biggest figure on a pitch often dominated by giants, standing 1.77m (5ft 10in) and weighing 83kg, but he punches well above his weight.
Sanchez booted five penalties and four conversions, missing just one kick at goal, as Argentina ran in four tries to see off Six Nations champion Ireland 43-20 in Sunday's quarterfinal at Cardiff's Millennium Stadium.
He is now second in the tournament points rankings having scored 74.
"We've succeeded in nailing our big goal of being in the four best teams, but we mustn't sit back and be happy with that, we must aspire to be the best," Sanchez said.
After three seasons at Bordeaux-Begles, where he struggled to hold down a first-team place, Sanchez blossomed at Toulon where he quickly established himself in the starting XV.
He joined the Bernard Laporte-coached side in October last year as a temporary replacement for current France fly-half Frederic Michalak.
He played 15 matches for Toulon, starting 12 of them, over five months before leaving the European champion for his wedding in May when Michalak returned to full fitness.
That meant he missed out on the season run-in.
"I didn't think I'd play much so I'm delighted to have been able to do so in this great team," Sanchez said at the time.
"Being able to come to Toulon and succeed was very important for me."
Sanchez has thrived in a confident Argentina side buoyed by its participation in the Rugby Championship, a tournament that also features Australia, New Zealand and South Africa.
"Without doubt, playing against the very best teams in the world six times a year helps you go up a level and the team is starting to show that this tournament is helping us," Sanchez said.
With veteran Juan Martin 'Magician' Fernandez playing at inside center and Martin Landejo and Tomas Cubelli at scrum-half, Sanchez finds himself the nerve center of a backline to set hearts racing, not something always associated with a side traditionally based around powerful forwards.
"To win by 23 points was also very nice, a first for this team," he said of the victory over the Irish.
"The win was a very emotional moment. All week we were very nervous. There was a lot of anxiety ahead of the game and the victory was a relief.
"The team is paramount. All my teammates produced the goods, as much in the forwards as in the three-quarters. Everyone was good and that helps you to be able to win."
Sanchez added: "This was the most important game of my career. It's up there as No 1, a quarterfinal in the World Cup, it was the first time I'd played in one and it was outstanding.
"It was vital for us to start with the two tries. Those first 15 or 20 minutes and also the final minutes were very crucial," he said after a blistering opening saw Argentina race to a 17-0 lead.
Ireland battled back to 23-20 at one stage, their fly-half Ian Madigan missing a penalty that would have drawn the sides level.
"We found ourselves just three points ahead, that was tough," said Sanchez. "But then our replacements helped us a lot, injecting an energy that had been lacking."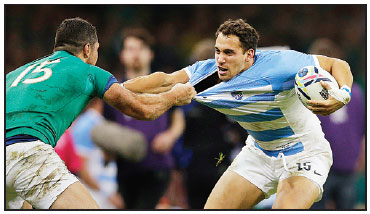 Ireland's Rob Kearney grabs the shirt of Argentina's Joaquin Tuculet during their Rugby World Cup quarterfinal at Millennium Stadium in Cardiff, Wales, on Sunday.Chris Tophe Ena / Associated Press
(China Daily 10/20/2015 page24)