Online markets key to rural growth
China will step up efforts to promote the online sales of agricultural products as part of its broad plan to leverage e-commerce to alleviate property in rural areas, senior officials said on Friday.
Wang Bingnan, assistant minster of commerce, said at a news conference that the ministry will integrate resources from telecommunications, transportation and postal departments to help rural residents better sell farm produce online.
The State Council called on Wednesday for joint efforts from governments and enterprises to accelerate the development of rural e-commerce.
Wang said that enhancing rural regions' abilities to upgrade their infrastructure facilities and market access channels is on top of the ministry's agenda.
To achieve the goal, the ministry will partner with the State Post Bureau to encourage e-commerce companies and express delivery firms to expand into rural regions to directly link farmers with consumers, reducing the role of middlemen.
Ma Junsheng, director-general of the State Post Bureau, said online shopping platforms can help quality agricultural products reach more consumers with greater efficiency and lower cost.
He cited the example of selling crabs online. "China's annual output of crabs is 20,000 metric tons, and now over 50 percent of them are sold online where each crab only costs 15 yuan ($2.40), far lower than the price at brick-and-mortar stores," Ma said.
Currently, rural e-commerce is developing rapidly in China's eastern coastal regions, but less developed inland areas are still facing obstacles, including lack of access to the Internet and the shortage of skilled workers.
Data from the Ministry of Industry and Information Technology show that among the 50,000 villages that have no access to the Internet, 98 percent of them are located in China's middle and western provinces.
To fix this problem, the Ministry of Industry and Information Technology announced on Wednesday an investment of 140 billion yuan to upgrade rural Internet infrastructure.
Zhang Feng, spokesman for the Ministry of Industry and Information Technology, said on Friday that most of the investment will go to inland regions.
"The government will subsidize enterprises that are willing to build networks in rural areas. But to make more efficient use of the fund, companies need to bid for these projects" Zhang said.
Since last year, the Ministry of Commerce has pumped 4.8 billion yuan into helping 256 counties across China to develop e-commerce, with over 100 of them located in the country's western and middle regions.
"The rapid growth of e-commerce can create abundant new jobs and boost rural residents' income," said Wang from the Ministry of Commerce.
He cited the example of JD.com, a major e-commerce player in China, saying the company hired 100,000 employees in 2015 to promote its business across the nation's villages.
Li Heming, who is in charge of rural e-commerce business at JD, said quality agricultural products abound in China's rural areas. If it develops as fast as expected, regional wholesale centers and processing industries will soon flourish to help farmers sell these products.
masi@chinadaily.com.cn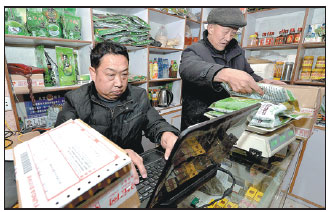 Xiang Xianhan (left) in Kangbao county, Hubei province, sells local specialties on Taobao.com while his father is busy packing the goods. Yang Tao / For China Daily