The Martian held fast atop the North American box-office charts, taking in an estimated $37 million over the weekend, industry data showed on Monday.
The critically acclaimed blockbuster starring Matt Damon as an astronaut stranded on Mars has now made $108.7 million in its first two weeks in theaters, according to box-office tracker Exhibitor Relations.
Hotel Transylvania 2 pulled in $20.4 million to hold onto second place for the second consecutive week, after leading the box office its first week out.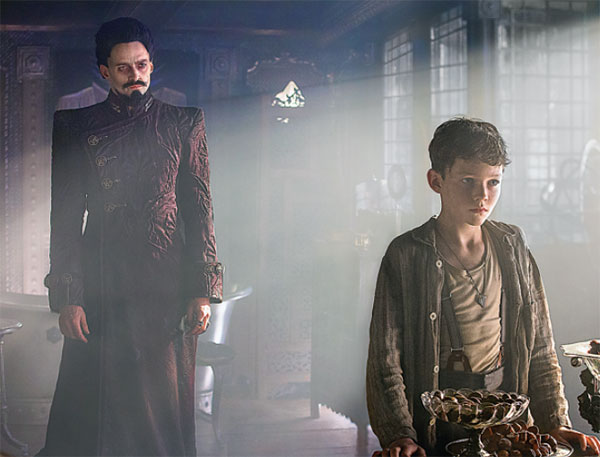 A scene from the film Pan shows Levi Miller (right) and Hugh Jackman. The reimagining of Peter Pan's origin story was third on North American box-office charts in a disappointing opening weekend. AP
The sequel, starring animated ghouls voiced by an all-star cast, has brought in $116.9 million in its three weeks on the big screen in the United States and Canada.
New release Pan was third in a disappointing opening weekend.
The reimagining of Peter Pan's origin story made $15.3 million over Friday, Saturday and Sunday - approximately one-tenth of what Warner Bros reportedly paid to make the fantasy blockbuster.
In its third week in theaters, The Intern, starring Robert De Niro as a 70-year-old interning for a fashion website founder played by Anne Hathaway, held firm at fourth place with $8.7 million in box office receipts.
Sicario dropped to fifth place, taking in $7.6 million. The thriller features Benicio del Toro as a brooding and shadowy agent on a counternarcotics task force along the US-Mexico border.
Maze Runner: The Scorch Trials, the second film in the Maze Runner trilogy based on popular young adult science-fiction novels, fell to sixth with $5.4 million.
The Walk, about French high-wire artist Philippe Petit, earned $3.7 million, jumping to seventh place in its second week out, after being released in limited theaters last weekend.
True-crime biopic Black Mass, about Irish-American mobster James "Whitey" Bulger, dropped to eighth with $3.1 million.
The thriller Everest, in which a group of climbers find themselves in a blizzard on the side of the iconic mountain, made just over $3 million, for ninth place.
The Visit, M. Night Shyamalan's low-budget thriller about a trip to grandma's house gone awry, brought in $2.5 million in 10th place.
Ahead of its wider release this week and next, Steve Jobs, the biopic about the Apple co-founder, brought in just over half a million dollars this weekend, despite being released in just four theaters.