Jamaican writer Marlon James wins Booker Prize for fiction
Marlon James became the first Jamaican winner of the prestigious Booker Prize for fiction on Tuesday with a vivid, violent, exuberant and expletive-laden novel based on the attempted assassination of reggae musician Bob Marley.
Michael Wood, chairman of the judging panel, said A Brief History of Seven Killings was "the most exciting book on the list" and a novel full of the "sheer pleasure" of language. He said it had been the unanimous choice of the five judges.
James was awarded the 50,000 pound ($77,000) prize during a black-tie dinner at London's medieval Guildhall. The 44-year-old author said he almost gave up writing more than a decade ago when his first novel, John Crow's Devil, was rejected by 70 publishers. He said winning the Booker Prize was "surreal", and joked that he would spend the prize money on a tailor-made suit or "every William Faulkner novel in hardcover".
He said he hoped his victory would bring "more attention to what's coming out of Jamaica and the Caribbean, because I think there are some brand-new voices coming out who are exploring contemporary society, who are exploring what's beyond politics, what's beyond colonialism".
A Brief History of Seven Killings charts political violence in Jamaica and the spread of crack cocaine in the US, and hinges on a 1976 attempt on the life of reggae superstar Marley - identified in the book only as "The Singer". The story is told in a cacophony of voices - from gangsters to ghosts, drug dealers to CIA agents - and in dialects ranging from American English to Jamaican patois.
James, who teaches creative writing at Macalester College in Saint Paul, Minnesota, said he saw the book as "a novel of exile".
'Certain courage'
He said distance from Jamaica had given him "a certain courage to go into topics like violence and the aftermath of violence and sexuality. I think I needed that distance and I needed that perspective".
James beat five other authors, including two Americans: Pulitzer Prize winner Anne Tyler, for the multi-generational family saga A Spool of Blue Thread, and Hawaiian writer Hanya Yanagihara for A Little Life, the story of four male friends, one of whom is a survivor of horrific child abuse.
The other finalists were British writer Sunjeev Sahota's immigrant story The Year of the Runaways; the fratricide fable The Fishermen, by Nigeria's Chigozie Obioma; and British writer Tom McCarthy's digital drama Satin Island.
Founded in 1969, the award is officially named the Man Booker Prize after its sponsor, financial services firm Man Group PLC.
Jonathan Ruppin, Web editor at British bookstore chain Foyles, said James' book would "provoke an intense amount of reader curiosity and some fascinating debate".
"This is what the Booker is about - it's about treating readers to something that the novel hasn't done before," he said.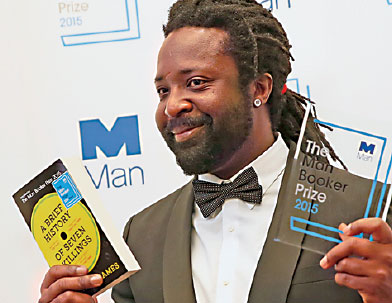 Jamaican author Marlon James holds his novel and award after the book was named as winner of the 2015 Booker Prize 2015 for Fiction in London on Tuesday. Alastair Grant / Associated Press