Bite-size treats eat into the snack market grows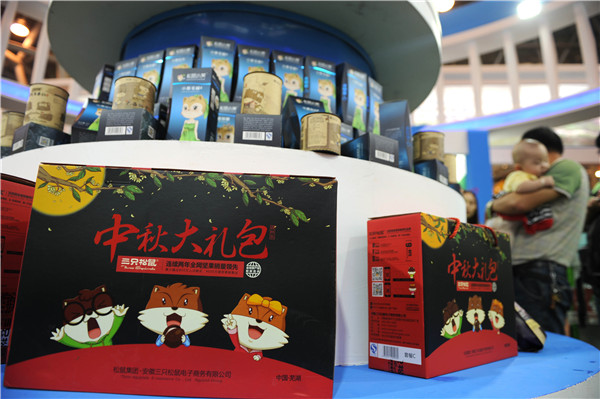 Snack foods on display at a trade fair in Hefei, Anhui province. Food in small packages are becoming popular, especially among women consumers. A Jin / Visual China / CFP
Fun nutritious snacks are being rolled out by the food industry to entice Chinese consumers who are looking for healthy options.
Mondelez International Inc, the multinational confectionery, food and beverage conglomerate based in the United States, has launched a range of bite-sized products such as Oreo Bowties, Oreo Flute and Mini Oreo.
With the emphasis on healthy products, Mondelez is hoping that 25 percent of sales revenue will come from these products by 2020.
Last year, 22.4 percent of revenue was from "better choice options", a term used by Mondelez to describe snacks which meet a certain nutritional criteria.
Since 2012, such individually wrapped products have jumped by 16 percent, according to figures released by the snacks giant.
"This reflects consumers' growing needs of weight control while snacking," said Ruyi Xu, head of research at Mintel Group China, a market research company based in the United Kingdom.
Data from Mintel has showed that small-sized biscuit packets, containing less than 51 grams, are proving popular with shoppers. In the 12 months to January 2012, market share in these products was just 8 percent. But in the 12 months to January 2015, that increased to 11 percent. During the same period, Mintel figures highlighted that large-sized biscuit packets, containing 500 grams, dropped from 17 percent in 2012 to 11 percent in 2015.
"Smaller unit pack size also addresses the problem of storage given that 51 percent of consumers think it is difficult to maintain freshness once the pack has finally been opened," Xu said. Still, bite-size products are not new to the biscuit industry.
Major brands are constantly developing new ranges of mini-sized biscuits, or snacks, that can be eaten together to build an array of flavors. "Biscuit types that complement one another will help meet the needs of consumers seeking different varieties," Xu said.
Smaller packets are certainly making an impact.
In the second quarter of this year, they accounted for 37 percent of chocolate purchases in China and 40 percent of candy sales, according to data supplied by Kantar World panel, an international company dealing in consumer knowledge and based in the UK.
"This means more indulgence occasions for consumers on the go," said Jason Yu, general manager of Kantar World panel China.
"As consumers are increasingly spending more time from home and the younger generation becomes more individualistic, they are more likely to purchase products for immediate consumption," Yu said.