China wins first Nobel Prize in medicine
By Shan Juan And Cheng Yingqi In Beijing And Hezi Jiang In New York | China Daily | Updated: 2015-10-06 11:01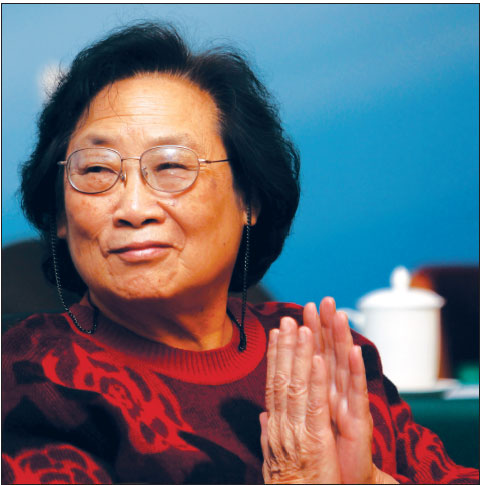 Chinese pharmacologist Tu Youyou, pictured in 2011, jointly won the 2015 Nobel Prize for Physiology or Medicine along with Irish-born William Campbell and Japan's Satoshi Omura, the Nobel Assembly at Sweden's Karolinska Institute announced on Monday. Tu won part of the prize for discoveries related to a novel therapy against malaria. Xinhua / Jin Liwang
Tu Youyou, 84, wins for her work in pharmacology
China has its first Nobel Prize in Medicine. And 84-year-old Tu Youyou said she was not surprised to get it.
"I learned about it from the TV news," she told Qianjiang Evening News on Monday evening. "A little unexpected, but also not quite surprised. This is not my personal achievement, but an award to all Chinese scientists. We worked on this together for decades, so the prize shouldn't be a surprise."
Half of the 2015 Nobel Prize in Physiology or Medicine went to Tu
for developing a drug that fights malaria, and the other half was awarded to to William Campbell of Ireland and Satoshi Omura of Japan for discovering therapies against infections caused by roundworm parasites. The winners will share an award of $960,000.
Tu discovered Artemisinin, a drug that has significantly reduced the death rate of malaria patients, and saved millions of lives across the globe, especially in the developing world, the Nobel Assembly at Karolinska Institute, which awards the Nobel Prize in physiology or medicine, said on Monday.
The Assembly said that discoveries that help fight parasitic diseases are crucial because those diseases "affect the world's poorest populations and represent a huge barrier to improving human health".
Chinese Premier Li Keqiang has sent a congratulatory letter.
"Tu's winning the prize signifies China's prosperity and progress in scientific and technological field, marks a great contribution of Traditional Chinese Medicine to the cause of human health, and showcases China's growing strengths and rising international standing," Li said.
Tu, born in 1930 in Ningbo, China, has been a pharmacologist at the China Academy of Traditional Chinese Medicine since 1965, now known as the China Academy of Chinese Medical Sciences.
In the 1960s, the main treatments for malaria were chloroquine and quinine, but they were proving increasingly ineffective. In 1969, Tu started to chair a government project aimed at eradicating malaria. She and her colleagues experimented with 380 extracts in 2,000 candidate recipes before they finally succeeded in obtaining the pure substance Qinghaosu, later known as Artemisinin, which became the standard regimen for malaria in the World Health Organization's catalog of essential medicines.
Juleen R. Zierath, chairman of the Nobel Committee for Physiology or Medicine, told Xinhua that Tu's "inspiration from traditional Chinese medicine" was important.
"But what was really critical was that Tu Youyou identified the active agent in that plant extract," said Zierath, adding "there was a lot of modern chemistry, bio-chemistry attached to this to bring forward this new drug."
In 2011, Tu was awarded the Lasker DeBakey Clinical Medical Research Award, popularly known as "America's Nobels", and many expected Tu to win the Nobel that year.
"More than 40 years after her findings the prize finally came," said Cao Hongxin, the head of the science and technology department of the State Administration of Traditional Chinese Medicine, and a former director of the China Academy of Traditional Chinese Medicine.
"It's an overdue honor for Tu and the world's recognition of Traditional Chinese Medicine. Now we have Tu winning the first Nobel Prize in Physiology or Medicine; We should be more confident that Chinese scientists will make more high-level breakthroughs in the future," he said.