Hot spots impose caps on visitor numbers during holiday period
The iconic Tian'anmen Square in central Beijing is usually filled with flowers, pot plants and topiary, but on Thursday there were some new installations: hundreds of toilets. There are now 445 portable toilets in eight locations in the square, and 132 assistants are on hand to point visitors in the right direction.
"We expect a huge number of tourists during Golden Week, so we have brought in these extra toilets," said Zhang Zhiqiang from the Beijing Environment Sanitation Engineering Group.
The week-long National Day holiday began on Thursday. More than 532 million domestic trips are expected to be made from Oct 1 to 7, according to the China Tourism Academy, and a range of measures are being rolled out to ensure happy vacations.
Beijing's major tourist sites received about 1.15 million tourists on Thursday, the 66th anniversary of the founding of the People's Republic of China, local authorities announced. The Palace Museum, also known as the Forbidden City, received its daily maximum of 80,000 tourists and stopped selling tickets at 1 pm, according to the municipal tourism commission.
The Temple of Heaven received 58,000 visitors, while the Badaling Great Wall saw 25,000 tourists, it said.
In the economic hub of Shanghai, the local government has launched an app on WeChat, an instant-messaging platform, which allows visitors to check tourist flow during their visits.
The app provides hints for visitors to the city's top tourist destinations, such as opening times, visitor numbers and capacity. Police have been stationed along the Bund, where a 36 people were killed in a stampede on Dec 31, according to Beijing Evening News.
Having experienced huge holiday crowds for several years, Jiuzhaigou Valley in Sichuan province, one of China's top attractions, has announced a daily cap of 41,000.
The rail network will also be under pressure. More than 100 million passengers are expected to travel by rail, according to the China Railway Corp.
In Nanchang, Jiangxi province, one of China's busiest transportation hubs, the local railway bureau has added 39 trains to ease the pressure.
Guangzhou Railway Group Corp, which operates trains in Guangzhou and Shenzhen, Guangdong province, has scheduled 39 extra trains to meet demand.
Many airlines have also increased flight frequency.
However, many people will still travel by road, and major roads will be congested.
Liu Simin, deputy secretary-general of the Beijing Tourism Society, said the daily caps are based on research into the largest tourist flows in previous years.
"The caps on visitor numbers are mainly intended to ensure tourists have a safe and happy holiday, but overall numbers will not be greatly affected," Liu said.
He Na contributed to this story.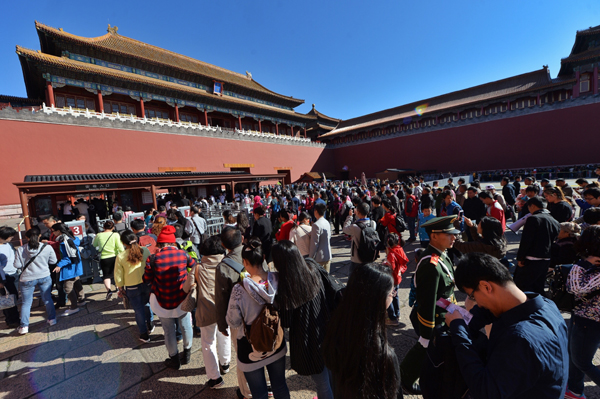 Visitors line up at the Wumen entrance of Beijing's Palace Museum on Thursday, the start of the National Day holiday. Liu Chang / for China Daily