Catalan separatists triumph but face problems
Pro-independence parties claim their victory in Catalan regional elections gives them a mandate to continue with plans to break away from Spain but opposition parties and the mainstream media noted on Monday that parties opposed to independence took 52 percent of the votes.
Madrid-based newspapers pointed out that most voters backed parties opposed to independence with leading newspaper El Pais' front-page headline proclaiming, "The independents win the election but lose the referendum."
Conservative ABC newspaper wrote "Catalonia does not want to go".
With almost 100 percent of the vote counted, the "Together for Yes" group of secessionists headed by regional government president Artur Mas won 62 seats in the 135-member regional parliament on Sunday, short of a majority and obliging it to seek support from the radical pro-independence Popular Unity Candidacy party known as CUP, which won 10 seats.
Mas claimed the victory gives his group "enormous strength to push this project forward".
But the CUP has pledged not to back Mas, setting the scene for tough negotiations.
"The negotiations in the coming days are crucial for the future of the secessionist movement," said Antonio Barroso, a London-based analyst. "Mas still wants to lead the process and it is unclear whether he would allow an alternative candidate to be elected PM without dissolving the pro-independence coalition."
The threat of Catalonia breaking away from Spain has dominated the country's political scene for the past year and has been a constant source of dispute between Mas and the ruling conservative Popular Party of Prime Minister Mariano Rajoy, which rejects any possibility of Catalan independence as unconstitutional.
Rajoy must call a general election by the year's end with polls suggesting his party will lose its majority in the national parliament.
The Popular Party took a beating in the Catalan elections, winning just 11 seats, eight fewer than in the previous legislature.
But Ines Arrimadas, the Citizens party's top regional candidate, said Mas should resign because "the majority of Catalans turned their back on him".
Barclays Research analysts said that although the independence parties had won more seats, they did not see secession as the most likely outcome because of the high political and economic costs, including exiting the European Union. They also expected the region would win some concessions from the Spanish government which will emerge from the general elections later this year.
Many Catalans who favor breaking away from Spain say their region, which represents nearly a fifth of Spain's economic output, pays too much in taxes and receives less than its fair share of government investment. Independence sentiment grew during Spain's near economic meltdown during the financial crisis.
AP - Reuters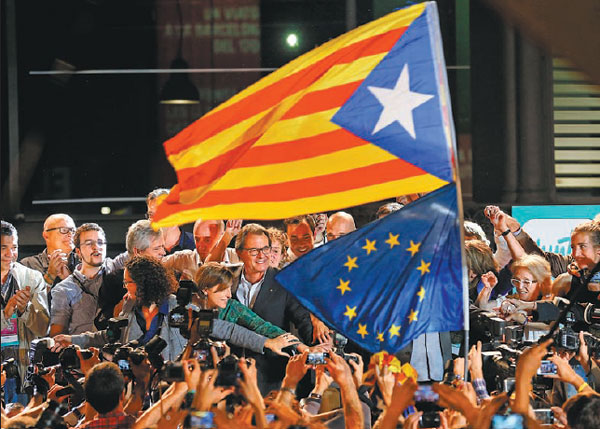 A pro independence flag and a European Union flag are waved in front of Artur Mas (center in front of supporters), regional government president and also head of the "Together for Yes" group of secessionists, in Barcelona, Spain, on Sunday. Manu Fernandez / AP