On the second day of his visit to Washington, Chinese President Xi Jinping was welcomed with a lunch banquet at the State Department, jointly held by US Vice-President Joe Biden and Secretary of State John Kerry on Friday
While addressing the lunch banquet, Xi mentioned that the year 2015 marks the 70th anniversary of victory in the World Anti-Fascist war. During that time, China and the US worked together in protecting peace, freedom and justice.
Xi said that over the past 70 years, relations between China and the US have gone through trials and hardships, and should enhance strategic mutual trust in the future.
Xi also said that his visit to the US this time, the two countries have made much progress in investment, cultural and educational exchanges, tackling climate change as well as coordinating multilateral affairs and cooperation. He reiterated that he and US President Barack Obama are committed to building a new type of relationship between China and the US.
Biden agreed with Xi and said that the two countries share a wide range of common interests, and that the existing competition between China and the US is a healthy one in which the two countries can learn from each other.
The banquet was followed by Xi's meeting with some US congressional leaders, including Senator Majority Leader Mitch McConnell, Senator Minority Leader Harry Reid and other members of Congress.
Xi stressed that Congress plays a crucial role in American politics. It also exerts great influence on American diplomatic relations, especially with China. Xi also stressed that the goal for both countries is to leave a better Sino-US relationship to future generations.
He also said that China and the US should avoid falling into "Thucydides' Trap", which the fifth century Greek historian described as the risk involved when a rising power rivals a ruling power, which could be harmful to both countries.
Contact the writer at zhangyue@chinadaily.com.cn
zhangyue@chinadaily.com.cn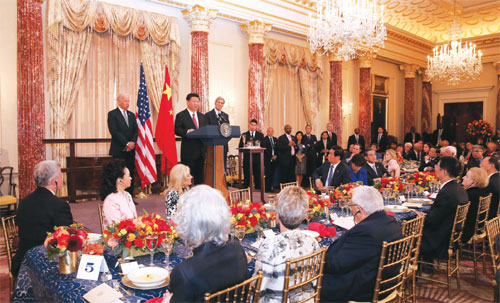 President Xi Jinping speaks at a lunch co-hosted by US Vice-President Joe Biden and Secretary of State John Kerry on Friday. Xinhua