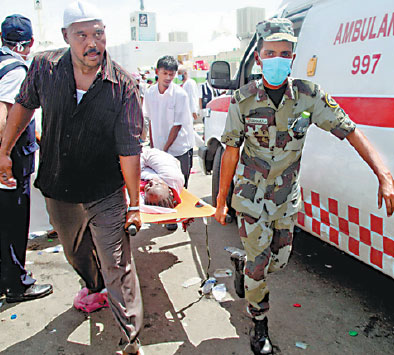 A woman is carried from the scene of Thursday's fatal stampede in Mina, Saudi Arabia, by hajj pilgrims and emergency personnel. AFP
At least 717 people were killed and hundreds more injured in a stampede on the outskirts of Mecca on Thursday - the deadliest tragedy to strike the annual hajj pilgrimage in more than two decades.
It was the second major disaster during this year's hajj season, raising questions about the adequacy of the safety measures put in place by Saudi authorities.
A crane collapse in Mecca nearly two weeks ago left more than 100 people dead.
Thursday's crush happened in Mina, a large valley about 5 kilometers from the holy city of Mecca, which has been the site of hajj stampedes in previous years.
At Mina, pilgrims carry out a symbolic stoning of the devil by throwing pebbles against three stone columns.
The morning stampede happened in two streets as pilgrims were making their way toward a large structure overlooking the columns, the Saudi Civil Defense Directorate said.
The multistory structure, known as the Jamarat Bridge, is designed to ease the pressure of crowds and prevent pilgrims from being trampled.
The directorate, which provided the death toll, said that at least 863 other pilgrims were injured in the stampede.
Ambulance sirens blared as rescue crews took the injured to hospitals. More than 220 rescue vehicles and about 4,000 members of the emergency services were deployed soon after the stampede to try to ease congestion and provide alternative exit routes, the directorate said.
Amateur video shared on social media showed a horrific scene, with scores of bodies lying amid crushed wheelchairs and water bottles along a sunbaked street.
About 2 million people are taking part in this year's hajj, which every able-bodied Muslim is obliged to do at least once. The pilgrimage began in earnest on Tuesday.
Saudi authorities take extensive precautions to ensure the security of the hajj and pilgrims' safety. About 100,000 security forces have been deployed this year to oversee crowd management and ensure safety during the five-day pilgrimage.
Officials use surveillance cameras and other equipment to limit the number of people converging on the site.
But tragedies are not uncommon.
The death toll from the Mina stampede far exceeded that of a similar incident in 2006, near the site of Thursday's disaster, when more than 360 pilgrims were killed. The deadliest hajj-related tragedy occurred in 1990, when at least 1,426 pilgrims died during a stampede in an overcrowded pedestrian tunnel leading to holy sites in Mecca.