Guide ushers in reform of state-owned enterprises
More rational management system to be set up in the next five years
China unveiled on Sept 13 a new stage in the reform of state-owned enterprises - part of a comprehensive strategy to speed up the nation's economic transition.
The State Council, or Cabinet, is aiming for a "decisive success" in the next five years in shaping a more rational management system for SOEs and nurturing a more capable generation of SOE entrepreneurs.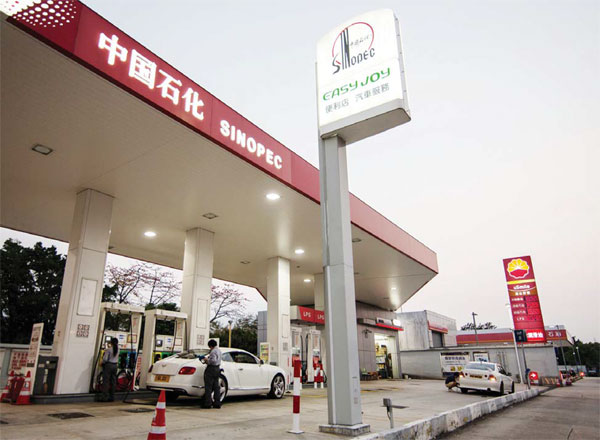 The State Council is aiming for a "decisive success" in shaping a more rational management system for SOEs such as oil giant Sinopec. Provided to China Daily
The long-awaited guidelines require SOEs to strengthen the system for boards of directors to prevent unrestricted influence by top executives, and the introduction of more market-oriented wage and human resource systems.
The reform calls for the government to be more focused on SOEs' capital returns and to practice greater tolerance with so-called mixed ownership, or the participation of private investment in existing SOEs.
Zhang Yi, head of the State Council's State-Owned Assets Supervision and Administration Commission, says the general theme of the reform is to enhance China's overall SOE efficiency.
Experts say the blueprint should be good news for the stock market, as it has details on promoting the equitable distribution of resources and incentives for employees that will be beneficial in improving the performance of listed companies.
Liu Jipeng, director of the Capital Research Center at the China University of Political Science and Law, says the latest policy will be beneficial for industries such as aviation, railways, power grids, telecommunications and other strategic areas.
With implementation of the reform, the state-owned asset management system will shift from managing enterprises to managing capital, Liu says.
In the meantime, SOEs will be divided into two categories - those specializing in capital and investment management and those specializing in industrial operations, he says.
This will be a critical step in phasing out some old SOEs and perhaps creating hundreds of new state-owned investment and operating companies. There will also be many mergers and acquisitions.
Xu Baoli, a senior researcher at the commission's research center, expects the "ripple effect" from the news about SOE reform to have a limited effect on the stock market.
Xu says the reform will produce many opportunities and will inevitably face many challenges. As a result, the State Council's guidelines are instructive, not mandatory.
Zhou Fangsheng, deputy director of the China Enterprise Reform and Development Society, a body under the commission, says mixed ownership and employee shareholding programs, as allowed by the guidelines, will result in diversification of shareholders and help rationalize the corporate-level decision-making process.
Chen Xingdong, chief China strategist at BNP Paribas, says a key issue in the SOE reform is to draw a line between corruption and mistakes in business decisions.
"SOE reform is the most important among all reforms in China. But its implementation would also need to allow for enough room for corporate executives to take action and to be creative," Chen says.
lanlan@chinadaily.com.cn