Former New York mayor Michael Bloomberg called China's One Belt, One Road project "ambitious", saying that it is forward-looking and will build a stronger next generation for China.
The founder of the company that bears his name spoke at Bloomberg headquarters in New York on Wednesday at an event about the One Belt, One Road economic initiative, hosted by the China General Chamber of Commerce-USA and Bloomberg.
The event was the New York stop of the company's China: Navigate the New Silk Road series of international roadshows. Other stops were London, Frankfurt, Singapore, Zurich.
Bloomberg said that the new Silk Road will create trade and investment opportunities between East and West, "which calls for major expansion in Chinese infrastructure investment, which is one of the best ways to stir economic growth".
He said that US leaders can learn a lot from China's investment and infrastructure.
"China's strength is its 5,000 years of history," he said. "China was very introspective, and now it's looking out to the world in a really unique way. I think there's a lot of opportunity, and I think for those of us who deal with China, there's also a lot of opportunity."
Zhang Qiyue, China's consul general in New York, said that the Silk Road project is significant not only because it is a proposal made by China, but it "is a response to the desires and aspirations of all the countries in the region, and I will say, probably in the world".
The initiative will link 60 countries and 4.4 billion people, about 60 percent of the world's population. The undertaking will boost a region that will contribute 80 percent of global economic growth, she said.
Song Xiangyan, the People's Bank of China's chief representative in North America, said that China's enterprises and companies have done much preparatory work for the project.
From January to July 2015, Chinese companies have made $8.6 billion of direct investment in about 48 countries along the One Belt, One Road project.
James Quigley, executive vice-chairman of international corporate and investment banking at Bank of America, was optimistic about the role of China's currency, the yuan, in the world economy.
amyhe@chinadailyusa.com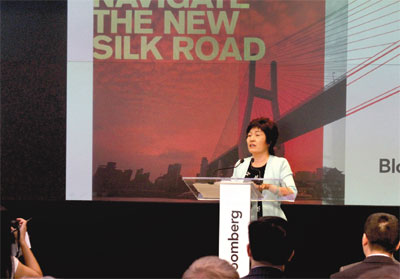 Zhang Qiyue, China's consul general in New York, said that the project will be mutually beneficial to all countries involved and also will be a good investment opportunity for American and Chinese companies. Amy He / China Daily