Santa and a saxophone amid plastic pine trees
Christmas is more than three month away but Yiwu is already dressed up for it.
A visit to the International Trade Mart shows a floor in the "festival art" section full of lifesize stuffed toys of Santa in glasses playing the saxophone and jostling for shop space against reindeer that look lost inside plastic coniferous forests covered in wooly snow.
Most importers place their orders for Christmas and New Year in the weeks between April and June.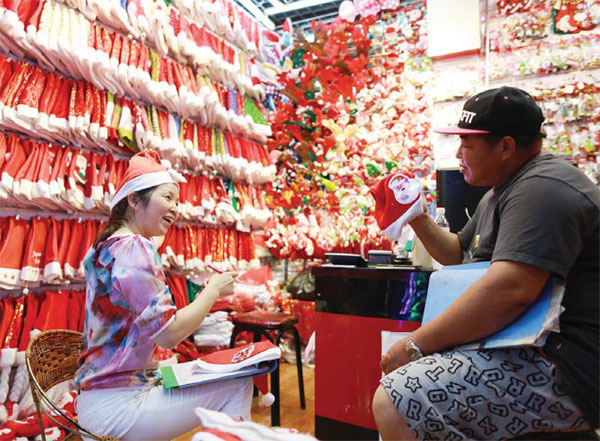 Lin Zhong(right), a Chinese trader who exports to Ghana, negotiates prices of Christmas hats with the owner of a store at the trade mart. Feng Yongbin / China Daily
Last year, the city's share in the world Christmas market was about 60 percent, according to Xinhua News Agency.
But it's difficult to tell how big the party will be this year.
Conversations with a few local sellers of such celebratory goods and government officials reveal a mixed picture at present.
Yiwu's market share is stable, the officials say, but the global demand is currently down owing to the economic situation in different countries. The top clients for Christmas articles from Yiwu are the United States, Russia, South Korea, many South American countries and Europe, according to the officials.
"My sales have dropped by 25 percent this year as compared to last," says Xu Jing, a vendor of Santa Claus hats and Christmas stars. Her main customers are from South America and Russia, she adds.
Zheng Bixiang, a seller of lights, glowing icicles and glass flowers, complains she has yet to receive more shipment orders from her customers in Europe, the US, Brazil and the Middle East. A bunch of battery-powered glass orchids, with their petals lit, is priced at around 65 yuan ($10.22) in her shop.
The mood changes significantly in a different part of the building.
Qu Lingduo, a seller of LED lights produced in a Linhai city factory in Zhejiang, says he is upbeat.
"Our sales are up 50 percent this year. We've already sent dozens of containers to India, Brazil and Malaysia."
Other than in Zhejiang, Yiwu's Christmas goods are also made in Guangdong province.
Lin Zhong, a Chinese trader who exports to Ghana, is heard negotiating prices of Christmas hats with the female owner of a store at the trade mart.
And while fluctuations in the value of currencies have affected demand in the West African country, Lin says, he is looking to ship thousands of hats this year. They are 1.55 yuan apiece with a sparkling"2016" inscribed on them.