It may sound ugly but internetization is what yonyou has pinned fortunes on
Over its relatively short life of 27 years, Yonyou has gone through several reincarnations. First it was known as Ufsoft, seven years later it became Ufida, and this year it metamorphized into Yonyou Network Co. However, there is much more to all of this than simple name changes.
In the early days after two former officials of the Ministry of Finance, Wang Wenjing and Su Qiqiang, set up the company with a loan of 50,000 yuan ($7,800; 6,900 euros), it sold financial planning software to small businesses. It later broadened out into enterprise management software and became an international behemoth, even as the nature of its business continued to change.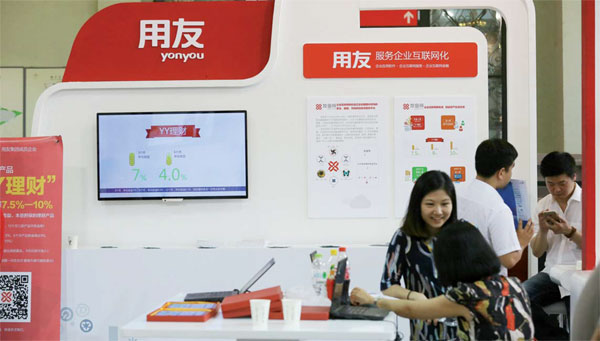 Yonyou's booth at a software exhibition in Beijing in May. Photos provided to China Daily
That became most apparent four years ago when it declared that it would start concentrating on "enterprise internetization" and Internet finance.
Yonyou was founded in Zhongguancan, China's so-called Silicon Valley, in Beijing, in 1988, but has since moved into its own software park about 14 kilometers away. It employs more than 12,000 people and has 100 offices worldwide, mostly in China, Malaysia, Singapore and Thailand.
The mission the company has given itself happens to dovetail neatly with the government's Internet Plus initiative, which Premier Li Keqiang announced in parliamentary sessions in March. That policy drive aims to integrate the mobile Internet, cloud computing, big data and the Internet of Things with modern manufacturing.
Internet Plus is more than a catchphrase, an economic driving force that is reshaping traditional sectors in China such as automotive, education, entertainment and finance. It is the last of these that particularly interests Yonyou.
The Ministry of Industry and Information Technology says that revenue in the country's mobile Internet was 213 billion yuan last year, 115.5 percent up on the year before and a sevenfold increase on 2011. The figure is forecast to surpass 400 billion yuan this year.
Wu Hequan, an academician with the Chinese Academy of Engineering, says within 25 years the value of China's Internet economy will surpass that of the United States, and it is by riding that wave that Yonyou is pinning its hopes of further success.
Wang Wenjing, 51, Yonyou's chairman and chief executive, says: "Internet technology has grown rapidly and is now critical to businesses in areas such as managing their assets and operations, and organizational structure and culture. Companies big and small all over the world need to internetize if they want to grow."
Yonyou says it has worked with more than 3,000 partners worldwide, and more than 2.2 million customers have bought its products and services. More than 300 of China's top 500 enterprises, including Lenovo, the world's biggest PC maker, use its services, the company says.
The company calibrates the solutions it offers depending on the size of the company it is dealing with. Its know-how is based partly on all it has learned about how companies operate over more than three decades, it says, and it focuses on two things in particular: Internetizing a business, meaning it can conduct business seamlessly online, and Internet finance, giving companies not only the tools to conduct financial transactions, but making funding available to them, too.
Ninety percent of Chinese companies are keen on internetizing, Wang says, but only 10 percent know how to go about it. "Business internetization is about companies innovating with their business model, and we are here with our Internet services and finance to help them do that."
There are four elements in doing business on the Internet, he says, the first being that it is customers rather than products or services that should be at center stage.
For example, he says, Yonyou is now helping home appliance makers to change the way they operate. In the past, the products they made were sold to wholesalers, who sold them to retailers who in turn sold them to the public. However, because every piece of the value chain is now connected through the Internet, what happens at every point of the chain can be changed to reflect market demand.
Some big companies have hundreds of subsidiaries and other entities that have their own financial and human resources people, and the degree of professionalism in various parts of the operation can be terribly uneven, Wang says.
"We have helped such companies build national financing centers where all the financial work can be pooled, which means they can employ fewer people, and those they do have are much more proficient in their accounting."
The second element of the new model is that when it comes to innovation, all employees have a role to play. In the past, Wang says, when a company wanted to innovate, it was likely that it would be the boss who gave orders, but now everyone in the company is encouraged to come up with ideas.
The third element in doing business in the Internet age is the fact that it is now a lot easier for companies, big or small, to diversify their operations into other areas of business or to other geographical areas, and in doing so can allocate and manage their resources efficiently and economically.
The final element is a realization that it is the data a company possesses that are a company's key asset rather than its operational procedures.
In the future, companies will not just be Internet companies, but finance companies, as well, Wang says.
"By that I do not mean every company should or will develop its own financial business, but that every company will manage its assets just as many financing companies do. If they don't they are going to lose an important element of competitiveness if they cannot be connected to capital markets properly."
Yonyou's earnings report for the first half of this year says the company invested more than 210 million yuan in digitalized services and Internet finance sectors. At the end of June, the company's digitalization service had more than 320,000 customers, 113 percent more than at the end of last year. In its Internet financial services, the company had turnover of 753 million yuan in peer-to-peer lending for the first six months of this year, a year-on-year increase of 544 percent.
Wang says that his target is to have 10 million companies using Yonyou's software and services in the next few years. The stiffest competition will come from two kinds of companies, he says. The first are ones similar to Yonyou that have been Internet companies and now want to develop company digitalization services, such as Baidu, Alibaba and Tencent. The others are startups that want to offer company digitalization services.
Among the many companies Yonyou has worked with is Alibaba, with which it has a strategic cooperation partnership covering four areas: enterprise cloud computing, e-commerce, big data and digital marketing.
Wang says China's Internet market is huge, so Yonyou's main focus is the domestic market, even though it has developed multilingual systems and products, and more of its products can be found overseas as more customers go global.
Wang, who is a member of the China Entrepreneur Club, which consists of founders of some of the country's top private companies, says he has learned a lot from the club's members, who include Liu Chuanzhi, founder and chairman of Legend Holdings Co Ltd, and Jack Ma, founder of Alibaba Group.
Next month, he says, he and other club members, political leaders and business leaders will visit Germany to learn about the country's development plan, Industry 4.0, and to see what Yonyou can learn. He will visit companies such as Siemens and BMW.
"In every era there are things that change companies. Good entrepreneurs need to know how to adopt and adapt new technologies and ideas within their industries. That's also the charm of being an entrepreneur. Whatever you do, things are never the same. There are always changes, and there are always challenges."
Contact the writers at suqiang@chinadaily.com.cn and chenyingqun@chinadaily.com.cn