Research and development links all about the long game
Chinese companies are pioneering ways of building research and development partnerships with British universities with an emphasis on long-term relationship building, says Chris Rudd, pro vice-chancellor at the University of Nottingham.
Unlike most Western companies, many Chinese firms now use their R&D presence on UK university campuses as a base to develop local expertise and contacts so they can expand into the UK and European markets, either through organic growth or acquisition, he says.
As a university with longstanding partnerships with companies for R&D work, Nottingham has seen its partnerships with Chinese firms grow over the past five years from almost none to contributing 20 percent of its R&D revenue.
Chinese firms working with the university are from a diverse range of industries, including pharmaceuticals and healthcare, food and drink, construction, urban planning and transport, including the aerospace, railway and automotive industries.
"With Chinese firms, there is more depth in the partnerships. I think it's something cultural, as opposed to just a focus on the commercial benefits of the partnership," Rudd says. Such a model is different from Western firms, which more commonly use R&D partnerships at universities as a way to outsource specific parts of their R&D work, he says.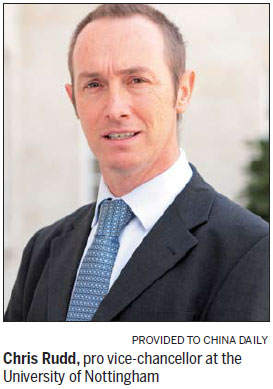 One element of the Chinese firms' R&D partnerships with Western universities is to build up understanding of the local market so that they can better manage their supply chain, which may involve imports from Western markets. Meanwhile, some of this knowledge and the contacts can also help their European expansion, he says.
An example of such a partnership is the joint research and development between the Aviation Industry Corp of China and Nottingham University. The partnership consists of both technology-based R&D and training of members within AVIC's senior management team so they know how to incorporate the new technology into their operations.
The R&D work focuses on lightweight materials for AVIC's aircraft and coatings for engines. While lightweight materials reduce the fuel consumption of aircraft and reduce their emissions levels, coatings for engines allow them to be more heat-resistant and robust.
Rudd says these new technologies will help AVIC advance its technology and capabilities, and they are jointly developed by the university's faculty and post-doctoral researchers with AVIC engineers sent to the university for their master's and doctorates.
Nottingham's partnership with AVIC was established four years ago after Rudd led a delegation to visit many high-tech companies in Shanghai, Beijing and Xi'an. Rudd then invited his contacts at AVIC to visit the university's Institute for Aerospace Technology, and in January 2011 the partnership was born.
As a part of the agreement, AVIC sends about 20 engineers to study at the university's Nottingham campus. Work on developing new technology is recognized as a part of their degree courses, so they can take the expertise and technology back to China.
The university's short-term executive courses on innovation management for AVIC's senior management team focus on issues such as how to foster a corporate culture that encourages innovation in every aspect of the company, including production, supply chain and management.
Rudd says R&D is not just selling a piece of technology, because it is equally important to provide training for client companies' employees to make sure they know how to commercialize the technology within their own company structure, and to ensure that they have the capability to carry out further research and development themselves.
It also extends beyond the idea of technical research because management-based innovation can also create extensive value for companies, as shown by the University of Nottingham's R&D partnership with the pharmaceutical staff at China Resources.
The university is helping China Resources understand the challenges and future trends of China's healthcare industry development, and tailor their products accordingly to maximize sales.
"China's healthcare industry is rapidly transforming, with key trends like the setting up of primary care, urbanization and people's lifestyle changes affecting the pharmaceutical companies' work, and we need R&D to help pharmaceutical businesses create innovative business models within this fast-changing industry," Rudd says.
The training provided to China Resources, which takes place both at the university's China campus in Ningbo and in Nottingham, includes components like human resources management, R&D management and entrepreneurship, which encourage employees to challenge the status quo in the company and find new answers.
Often research partnerships are established through Chinese companies' UK subsidiaries or acquisitions in the UK. Such was the case with the University of Nottingham's partnership with China Railway Rolling Stock Corp, the high-speed train company formed in June with the merger of CSR Corp and CNR Corp.
In 2008, Zhuzhou CSR Times Electric bought Dynex, a UK company specializing in semiconductors. Zhuzhou CSR was a subsidiary of CSR and now is part of CRRC. Prior to the acquisition, the University of Nottingham was already helping Dynex's R&D efforts in power electronics, so the university's research partnership with CSR was built upon longstanding trust developed through the Dynex partnership, Rudd says.
The partnership focuses on bringing about 30 CRRC senior managers to the university's Nottingham campus each year. Each manager selects a new idea based on technology or a business model for his or her research, which is done with the help of the university's faculty. They then pitch their new ideas to their colleagues at CRRC and the best ideas adopted by the company.
Rudd says R&D partnerships with Western universities comprise a good strategy for Chinese firms to build up technical capability in a fast and efficient way, and upgrade the skills of their employees.
"Western firms would focus on staff training as well, but the need for training of Chinese firms is significantly greater, as the companies are all fast moving up the value chain and require highly skilled staff to maintain the innovation drive," he says.
The University of Nottingham's research partnerships with Chinese universities also have helped to create R&D value for Chinese companies.
A part of its AVIC partnership involves the Chinese University of Science and Technology, wherein the two universities offer a joint training program to help AVIC develop technology in Shanghai and Nottingham. Each university contributes its own research expertise.
Corporate research partnerships also greatly benefit universities, especially as universities' government funding is being cut back in the UK.
On top of the cash revenue from corporate R&D work, universities can also make a strong argument for government funding by having corporate R&D partnerships, which allow them to demonstrate that their research has practical applications, Rudd says.
Rudd says the established research expertise of universities like Nottingham gives them an advantage in their competition with newer universities, and crucial to their competitiveness is a strong faculty of committed research staff who have the right expertise and experience in working with businesses.
"Such an established faculty will have members who know how to do pioneering research, work with postgraduate research students and work with business sponsorship," he says.