About 4,300 more people, mainly Syrians, place strain on resources
The Greek government was set to hold talks on Wednesday on the huge numbers of migrants landing on its shores, as about 4,300 more people, most of them Syrian refugees, arrived in Athens overnight.
Two ships carrying the latest arrivals docked at Athens' Piraeus port after sailing from Lesbos, one of several Greek islands struggling to cope with the huge waves of people crossing the Mediterranean from Turkey in flimsy boats.
About 1,800 people arrived on the Greek mainland on Tuesday evening, with another 2,500 landing at dawn, port police said, adding that they had been taken to a nearby train station.
The ships were chartered by the Greek government to help relieve pressure on Lesbos, whose authorities and infrastructure are ill-equipped to deal with the huge influx of people.
More than 160,000 people have arrived in Greece this year, most of them fleeing war in the Middle East, as Europe grapples with its biggest migration crisis since World War II.
For many, Athens will be merely the first stop in a grueling land journey north through the Balkans in a bid to reach Hungary, a key entry point into Europe.
The numbers crossing from Turkey to Greece have soared over the summer as the migrants, many paying over $1,000 to smugglers for the risky passage, take advantage of the calm seas to make the crossing.
The Greek government - which has just accepted a third international bailout as it struggles to pay enormous debts - has repeatedly said it is unable to cope with the scale of the influx, calling for a coordinated European response and for more resources to help it tackle the crisis.
Greek ministers were set to meet on Wednesday morning on the crisis, which is likely to be at the center of talks scheduled on Thursday in Athens between Greek officials, European Commission Vice-President Frans Timmermans, and Dimitris Avramopoulos, the EU's commissioner of migration and home affairs.
At the request of the EU, Romania is to receive the first group of immigrants in November, presidential adviser Leonard Orban told a local radio on Tuesday.
In an interview with Europa FM radio, the European policy adviser mentioned that over 1,700 refugees will gradually be admitted in six centers in Romania, most of whom will come from Greece and Italy.
He said the six centers are in Bucharest, Giurgiu, Galati, Somcuta Mare, Radauti and Timisoara. Immigrants will receive in these centers water, food, accommodation and consular services.
Romania will get from the European Union 6,000 euros ($6,800) for each refugee, he added.
AFP - Xinhua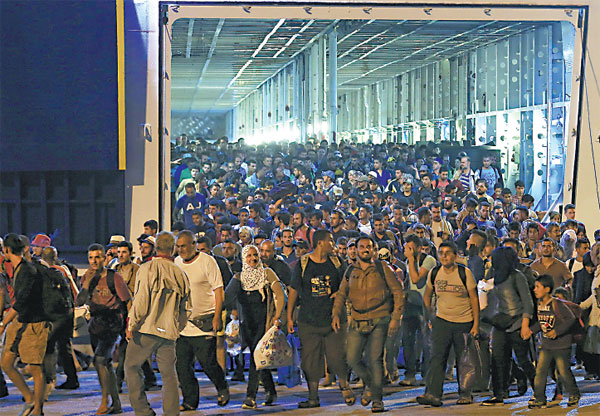 Refugees and migrants disembark from the passenger ship Tera Jet, after a trip from the island of Lesbos to the port of Piraeus, near Athens, Greece, on Tuesday. Alkis Konstantinidis / Reuters