Varied cultures drawn together in capital which has strong presence of people from around the world
One Friday evening a couple of weeks ago I was sitting outside a Beijing grocery store enjoying a drink. I would usually sit there with my African friends, talking about our experiences in the Chinese capital or back home.
That day I was relaxing on my own, enjoying the scenery and sometimes reading messages from friends on my phone. When customers came into the shop they gave me a brief greeting, especially fellow Africans, who commonly exchange a high five even if they don't know each other because we feel emotionally attached.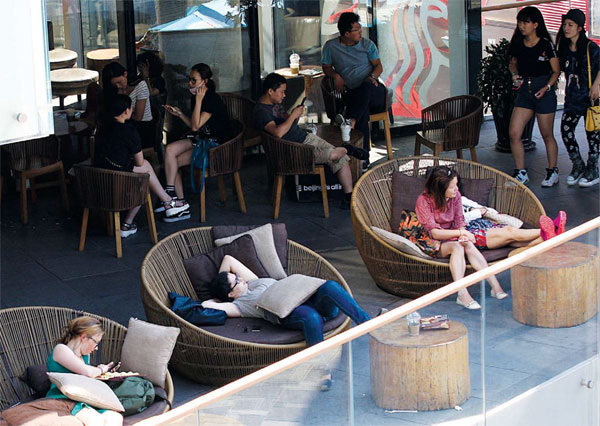 Foreigners take a rest at a cafe at Sanlitun area in Beijing, a fashion center of bar culture, shopping, food and arts. Wang Zhuangfei / China Daily
On the other side of the shop, a few meters from me, was a group of five people smiling and talking loudly.
I looked at their appearance and tried to guess where they were from. When I overheard them chatting in English, I thought they were fellow Africans.
I tried to guess where specifically they could be from. I visualized western Africa, then north and south. I tried to count the number of countries that I know. I just couldn't guess. I returned to east Africa, where I hail from. My guessing game was interrupted when a woman in the group said hello.
I was glad they had drawn me into their conversation so I gave them a warm greeting in response: "Hi. How are you?"
Then, another woman in the group asked me where I am from.
"Ethiopia," I replied.
"Oh," the woman said, adding with a smile: "I like your traditional bread."
She was referring to a bread called injera, a kind of pancake eaten with various sauces. Outside of Ethiopia, it can be found only in Ethiopian restaurants. At this point, I was confident the people in the group were fellow Africans.
I was curious to know where she had tasted injera. "In an Ethiopian restaurant in New Zealand," she tells me.
I was amazed by the answer, but I reasoned that there was probably a sizable Ethiopian Diaspora in New Zealand to warrant opening such a restaurant. Here I suspected that my guess as to the group's origin was a mistake, believing them now to be from New Zealand. To find out for sure, I finally asked.
"I'm from Micronesia," one of the women said.
Micronesia? I repeated the name to myself. I was amazed. From looking at the map, I knew that there was an area of the world called Micronesia, but I didn't know it was also a country.
I'm from the Ethiopian capital, Addis Ababa. My city is the seat of the government as well as the headquarters of the African Union. In addition, the city has about 115 embassies, diplomatic corps and other international organizations, the third-largest number next to Washington DC and Geneva.
My work as a journalist has given me a chance to attend numerous events and to meet people of various backgrounds and cultures. It is enjoyable to see such varied cultures, and I'm lucky to have been exposed to all the diverse peoples of the world.
But I discovered that day in the grocery store that I have been missing some components of the globe's beauty, that there is more to know about people and more joy and life experience to be had.
But where can I get access to all these people? The best place is Beijing, which has one of the largest concentrations of diplomatic missions, expatriates and overseas students.
After seeing my stunned reaction, the group invited me to join them. Without hesitating I moved to their table, and they told me their names and where they had come from. Three were from Micronesia, while two were from Tonga, another country that was new to me.
These new friends were eager to know about other people as well as introduce their cultures. They explained that Micronesia is a cluster of small islands in the Pacific Ocean with a population of no more than 100,000 people, smaller than smallest administrative unit in my country.
My introduction to these Pacific Islanders led me to getting acquainted with people from neighboring countries. A few days later, I met university students from Vanuatu and Kiribati in the same place. Although we didn't speak the same language, I was able to learn that hospitality and a strong social life are salient features of their cultures. It reminded me of my own culture: eat and drink together.
The Pacific is far away from my continent, which makes it difficult to have closer trade or cultural ties with the countries there. But my stay in China has helped me have a broader view and understanding of the world, in addition to China.
My short stay in Beijing has been of great importance to me. It was the most affordable and convenient way to tour the world. Apart from being the Chinese capital, Beijing is a melting pot of cultures and businesses.
I have not toured the world and could only guess how costly that would be. That is what holds back people like me from realizing their dreams of seeing the world.
But if you are in Beijing, the only investment needed to discover the world is eagerness.
The author is publications editor with the Government Communications Affairs Office of Ethiopia. He is on a 10-month exchange program hosted by China Africa Press Center. The views do not necessarily reflect those of China Daily.