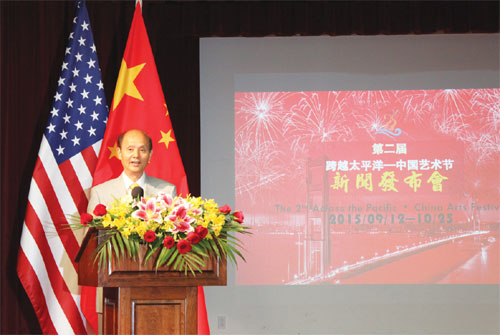 Luo Linquan, Chinese consul general in San Francisco, introduces the second "Across the Pacific-China Arts Festival" at a press conference on Thursday at the consulate general in San Francisco. Lia Zhu / China Daily
Contemporary arts festival will visit Seattle, Northern California
A Chinese arts festival will be held in Northern California and Seattle from Sept 12 to Oct 25 to promote China's contemporary art in the United States and cultural exchanges between the two countries.
The Second Across the Pacific-China Arts Festival, organized by China International Culture Association in partnership with cultural societies in China and the US, will bring Chinese performing arts, including dancing, kung fu and crosstalk, as well as fine art exhibitions and Chinese movies, to US audiences.
"In this increasingly globalized world, China and the US have never been as close to each other as they are today, which naturally calls for mutual understanding," Luo Linquan, Chinese consul general in San Francisco, told a press conference on Thursday at the consulate general in San Francisco.
"Cultural exchanges and cooperation between China and the US can serve as a bridge between the two peoples to promote better understanding and friendship," he said.
The festival is one of the outcomes of the sixth China-US High-Level Consultation on People-to-People Exchange, which was held in June in Washington, and part of the Ministry of Culture's efforts to promote Chinese art in the US.
Last year, the first Across Pacific-China Arts Festival was held from September to October in Northern California to mark the 35th anniversary of the establishment of diplomatic relations between China and the US. A symphony, named for the famous Chinese painting Riverside Scene at Qing Ming Festival, a dance drama featuring Tai Chi and other performances were presented to US audiences.
This year, more cultural organizations will participate and offer a wider variety of performances and exhibitions, including a crosstalk performance by young artists, Hui Ban-The Story of Anhui Opera Troupe During 1911 and A Night with Chongqing Traditions, according to Luo.
During the festival, Luxun Academy of Fine Arts, one of the most prestigious art schools in China, will exhibit 75 drawings, paintings and sculptures created by its students and teachers.
The Shaolin Temple Cultural Center will hold a series of activities, including a performance entitled "Shaolin Monks Kung Fu, Way of Life" in San Francisco, and a forum on "spiritual training and social involvement" at Sanford University.
The 1,500-year-old kung fu of the Shaolin Temple also represents Chinese culture, and it is a "way of life", said Shi Yanran, executive director of the San Francisco-based Shaolin Temple Cultural Center.
He said there have been more than 1,500 students at their three centers in the Bay Area and more than 10,000 people practice kung fu in the area.
Three films will be screened during the festival to give US audiences a taste of everyday life in modern China.
liazhu@chinadailyusa.com