Bolt's big win shifts spotlight from doping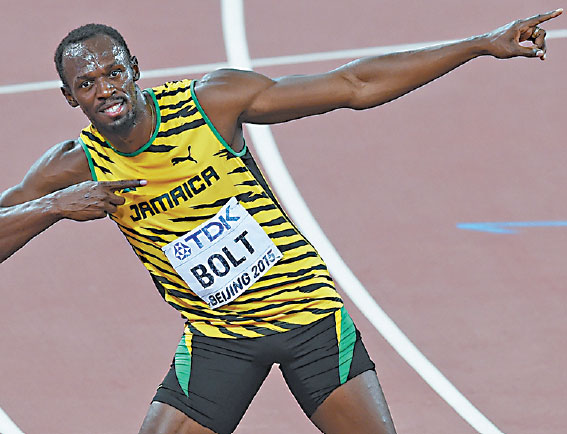 Usain Bolt celebrates winning Sunday's 100m final at the IAAF world championships at the Bird's Nest in Beijing. Wei Xiaohao / China Daily
Track greats laud Jamaican's 100m heroics in Beijing
"I'm amazed. This is Usain Bolt's best race ever."
That was American athletics great Michael Johnson's assessment of Bolt's latest 100 meters world championship triumph in Beijing on Sunday.
Steve Cram, another past champion who in his role as a commentator for the BBC has witnessed all of the Jamaican sprinter's greatest performances, was of a similar opinion when he declared that Sunday was Bolt's "finest day."
Yet Bolt had just won a race in 9.79 seconds, more than two-tenths slower than the world record.
How could this victory be the Jamaican's best?
Bolt has been a global superstar since the day - seven years ago, in the very same Bird's Nest Stadium - he obliterated the world record, crossing the finishing line in 9.69 sec to win Olympic gold.
Most astonishing of all was how he had laughed and joked before the start and then spent the final 20m of the race with his arms outstretched for the acclaim of the ecstatic crowd, as well as the billions watching at home on television.
Many thought that performance could not be surpassed. Yet a year later, at the world championships in Berlin, Bolt did just that, clocking a personal-best 9.58.
With a further world title in Moscow two years ago and another Olympic gold in London in 2012, it was hard to conceive how he could achieve any more.
But on Sunday, two days after his 29th birthday, the view is that Bolt might have done so, by saving the reputation of his beleaguered sport.
The back-story to the race in Beijing was allegations of widespread doping in track and field dominating the headlines in the buildup to the championships.
Also in the 100m final was Justin Gatlin, an American who has twice failed drugs tests and yet, at 33, was back on track and running faster than ever.
Final showdown
Gatlin arrived in Beijing with the far better performances this season, right through until his 9.77 run in the semifinal.
Bolt's year, meanwhile, had been blighted by injury, with a pelvic problem to add to the congenital back condition which requires him to undergo hours of remedial physiotherapy every day.
Short of races, Bolt admitted he was not as sharp as he would like to be. In his own semifinal, he stumbled away from his blocks.
Then came the final showdown.
Through most of his senior career, Bolt had rarely been under pressure from his rivals. His chilled antics before starts, even Olympic finals, had endeared him to his global audience.
There was little of that this time, as the tension of the event seemed to affect even him.
But it might have affected Gatlin more.
The gun fired and the sprinters were shoulder to shoulder for 60, 70, 80m of the race.
Gatlin gunned it, but could not shake Bolt.
Then something visceral happened, something that epitomizes top-flight sport: One of the warriors reached deep within himself and tapped into a reserve of energy to ensure he would not be beaten.
That was how Bolt won the 100m world title for a record-tying third time.
And that was why Bolt had the likes of former track greats such as Johnson so readily singing his praises.
"He'll be most proud of this win, without a doubt," Johnson said.
"It's not about technique, it's about running for your life. He's got the talent to be able to do that."