Chinese firm builds brand in South Africa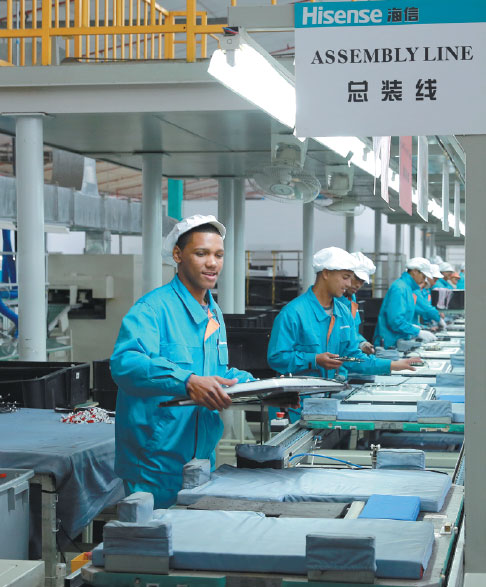 Workers at a production line at Hisense's factory in Atlantis in South Africa.  Provided to China Daily
Hisense conference in Cape Town helps cement trade relationships during a tour of its factor
Raising the level of the economy, promoting inclusive growth and continuing to learn from the Chinese model are three of the key factors that could help South Africa successfully address poverty, inequality and unemployment.
Speaking at the two-day Hisense Export Strategy Conference in Cape Town recently, South Africa's Trade and Industry Minister Rob Davies also stressed that industrialization and infrastructure development were critical elements in implementing inclusivity in the economy.
"Industrialization is fundamental for the country and we need to move up the value chain. Infrastructure is necessary to support and underpin industrialization.
"It can also be a basis to support industrial development, because infrastructure rollout programs create demand for new factories.
"We also need to support new innovative technology coming to our country and transfer those technologies to our people. I believe that these elements will enable us to reach a inclusive growth," said Davies.
The Hisense conference saw partners from Africa, the Middle East and South America visit the Mother City to discuss trade relations and tour the Hisense factory in Atlantis, which is 40 kilometers north of Cape Town's central business district.
For Hisense, the conference was more than an exercise in showing off its local operations.
In the past, some manufacturers treated Africa as a dumping ground for inferior quality electronic goods and old stock. Davies said South Africa could learn from the Chinese by promoting investment, domestic and foreign.
"One of the things that is interesting about Hisense in particular, it is one of the first Chinese investments that came to South Africa and located itself in value-added industries. China has changed from being the net recipient of foreign direct investment to becoming a net investor outside of the country," he said.
Davies also defended his government's policy on black industrialists, saying it was important for the government to promote a much more inclusive pattern of economic growth.
"We need to include more historically disadvantaged people in the manufacturing sector. It is for this reason that we have decided to support black industrialists on top of the BEE (black economic empowerment) programs, so that we actually assist to create many more ... leaders of the industrial enterprises in the country."
Davies said South Africa has the capacity of producing quality products.
Hisense General Manager Li Youbo said Hisense was voted among the top five performing companies in the country. Hisense aims to produce 270,000 TV sets and 210,000 fridges in 2015 in the country.
The company's strategy involves using South Africa to expand exports to Africa and create jobs, Li said.
Hisense and the China-Africa Development Fund understand the potential of the manufacturing sector and jointly invested in the South African Home Appliance Industrial Park.
Hisense has a strong commitment to the continent with its Atlantis factory employing more than 600 workers from the local community. It has also established distribution channels in 14 African countries.
The second day of the conference was devoted to the challenges faced by African trade partners, as well as proposals for possible solutions.
"It is true that for Hisense, Africa is a key market, and with a local factory providing quick turnaround times for orders, South Africa provides the perfect platform for distribution," said Keith Pereira, Hisense South Africa export manager.
"This is why this 'unconventional' conference is so vital, since for Hisense it's not just about pushing into Africa. It allows us to listen to what our trading partners are saying about their respective markets and respond to their concerns," said Pereira.
African countries belonging to the Southern African Development Community benefit from trading through South Africa by enjoying reduced trade rates.
African trade partners ordering from South Africa can also expect a much faster turnaround time in the delivery of goods, while containers can be mixed with different types of electronics, which is not possible otherwise.
Hisense partners also benefit through marketing support through the South African office, with the service department also available to them.
Alex Zhu, deputy general manager with Hisense International Co Ltd, addressed the delegates on the company's international vision, while Li discussed the company's performance locally.
"Growth is not an easy task and it takes dedication to achieve such rapid results. This is why we want to not only highlight Hisense's achievements, but also help share our knowledge and assist with growth in other markets," Li said.
The company, which manufactures flat-panel televisions, household appliances and mobile communication devices, is recognized as a global top 10 player.
Recently, Hisense also had the opportunity to show its corporate responsibility.
The company spread some good cheer by donating a state-of-the-art refrigerator to the Southern African Foundation for the Conservation of Coastal Birds in the Western Cape.
This will assist the organization in caring for 300 baby penguins.
The foundation is a leading marine-oriented nonprofit organization that has treated more than 90,000 oil-coated, ill, injured or abandoned African penguins and other threatened seabirds since 1968.
Independent research showed that the wild African penguin population was 19 percent higher directly due to the foundation's efforts.
Wesgro, the Western Cape Tourism Trade and Investment Agency, put feelers out to their network of businesses and Hisense South Africa came to the foundation's rescue with a new, energy efficient 730L double-door fridge.
Councilor Kenneth Kempt Horne, chairman of the City of Cape Town's Energy and Climate Change Committee, and Jerry Liu, Hisense South Africa director, handed over the fridge to the foundation at their Tableview premises.
Liu said Hisense South Africa is glad to have the opportunity to be a donor.
"Our factory in the Western Cape has been established, which will create more job opportunities for the local people."