Downton Abbey cast's downcast farewell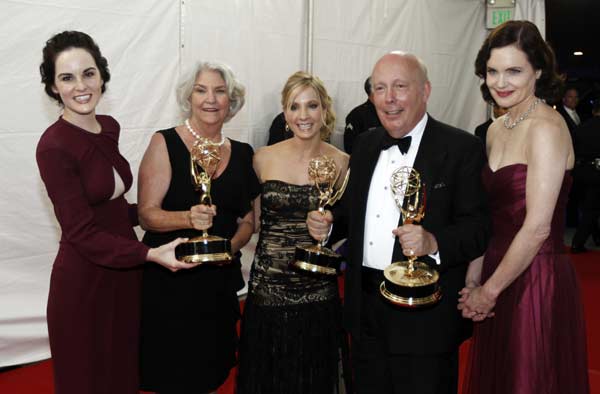 Cast and crew of Downton Abbey, (from left) actress Michelle Dockery, producer Rebecca Eaton, actress Joanne Froggatt, creator Julian Fellowes and actress Elizabeth McGovern.AP
Just like its fans around the world, Downton Abbey creator Julian Fellowes does not seem to be able to let this series go so easily.
The British writer has not even finished shooting the last scene for the sixth - and final - season of the wildly successful series, but he is already gunning for a movie.
"I doubt it would be a prequel. I mean, if the movie happens it would be a continuous one with the same people," he said in London on Tuesday at a British Film and Television Academy ceremony honoring the series.
"I'd like a movie. I think it'd be fun," he says.
BAFTA Celebrates Downton Abbey was a chance for cast members, who finish shooting this week and have already said a number of goodbyes, to have an instant reunion.
Some, like Laura Carmichael, who plays Lady Edith, still have a few days to prepare emotionally for the last "cut".
"The last day is Friday," she says. "I've already blubbed saying goodbye to different cast members, so I'm sure I won't be able to speak."
Elizabeth McGovern says she was not as stoic as she thought she would be.
"I decided I wouldn't cry, but I did. I shed a few tears."
Her on-screen husband Hugh Bonneville, who plays Lord Grantham, took a more practical approach to saying goodbye to cast members he has worked with for the past six years.
"I finished yesterday along with Michelle Dockery (who plays Lady Mary) and Allen Leech (who plays Tom Branson)," he says, "and we had a pint in the pub to say farewell."
The stars agree they will miss the friends they have made along the way - and will also hate giving up their cinematic alter egos.
Producers Julian Fellowes, Liz Trubridge and Gareth Neame were presented with a BAFTA Special Award by Julie Walters for the impact the show has had on global audiences. Only the Harry Potter franchise team has been awarded a similar trophy.
The sixth season of Downton Abbey will start airing in Britain next month and in the United States next year.