Sichuan opens up nuclear power sector
Sichuan province has become the first in China to open its nuclear power sector to private investment, according to an official notice published on Monday.
The provincial government is encouraging what it called qualified enterprises to invest in future nuclear power projects, research, the manufacturing of nuclear power equipment, and its nuclear-power service industry.
Experts said the Sichuan green light was a strong message that China is now willing to diversify its funding sources to support what is an ambitious nuclear power program, especially on research and development, which slowed in the wake of the 2011 Fukushima nuclear power station disaster in Japan.
However, they said the Sichuan authorities still need to clarify the exact qualification requirements for investors, and what returns and risks might be involved.
Until now, China's nuclear industry has been strictly State-owned. But in December, Li Pumin, secretary-general of the National Development and Reform Commission, the top planner, said it was considering welcoming private investment into the sector.
The commission's latest data show that China is operating, building and planning 52 nuclear power plants. Of those 23 were operational by April, with a gross installed capacity of 21.4 million kilowatts.
The government's ongoing nuclear power development plan (2011-2020) was amended by the State Council in October, 2012, making the country's installed capacity target 40 million kW by 2015, with 20 million kW under construction.
Those two figures will reach 58 million kW and 30 million kW, respectively, by 2020, meaning a sharp rise in investment is likely.
"From now until 2020, China will start building five to six new nuclear power units every year. That needs annual spending of more than 100 billion yuan ($16.67 billion)," said Xu Yuming, deputy secretary-general of the China Nuclear Energy Association.
Xu predicts the country will then build another six to eight nuclear power units every year until 2030, bringing its gross installed nuclear power capacity to 200 million kW, which is then likely to account for more than 10 percent of the country's total power needs.
To cut its carbon emissions, China is also vowing to generate a fifth of its power from non-fossil fuel sources by 2030, against a current 10 percent, placing nuclear at the center of those plans.
Guo Hongbo, a spokesman for the State Nuclear Power Technology Corp, told Xinhua News Agency in May, however, that the research and development of core nuclear power technology remained a main obstacle.
lyang@chinadaily.com.cn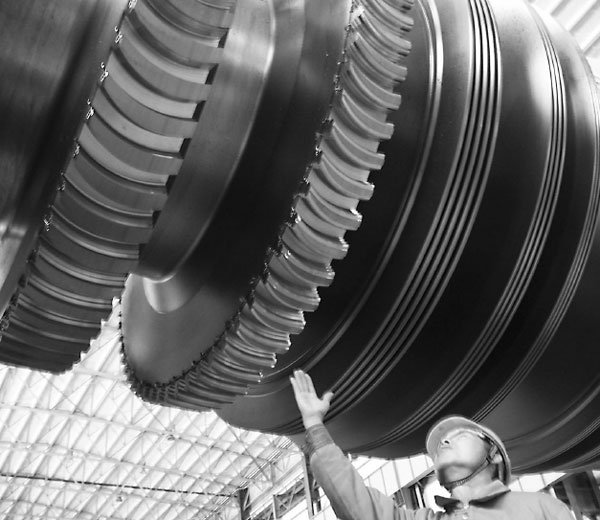 A rotor used in nuclear plants being produced in Deyang, Sichuan province. Sichuan has become the country's first province to open its nuclear power sector to private investment.Kou Yuanlin / For China Daily