8 die as flash flood hits scenic area
Eight people died at a popular mountain scenic spot when heavy rain caused flash flooding in Xi'an, the capital of Shaanxi province, late on Monday afternoon.
One person was still missing after the flooding, said the city's emergency headquarters.
The storms caused chaos on roads across the province, and many trains were canceled due to mudslides. Heavy rains were being forecast through Wednesday.
The eight died after heavy rain flooded the mountainous area of the city's Chang'an district at 5:15 pm. The area is popular as a getaway from the city, which has been experiencing unusually hot weather for two weeks.
"Nine residents who had gone from the city to a ravine in the mountains to cool down were swept away by the flood," said Lu Kai, Xi'an's deputy mayor.
Fifty tourists were trapped by water in the ravine, and more than 200 firefighters, police officers, government officials and farmers joined in the search and rescue operation.
All 50 tourists were led to safety by the rescuers, and the search for the missing person was continuing.
A man surnamed Wang, who was among the group of tourists, said that he and his friends were playing in the water and had climbed up onto the bank just before the flood came.
The rain also caused traffic jams on waterlogged roads across the province.
"Two men were found dead under an overpass in Xi'an city's Lintong district on Sunday night after they became trapped in the water as they were driving along the road," Lu said.
The Shaanxi provincial meteorological observatory issued a heavy storm warning on Sunday when 78 of the province's 93 urban areas were hit by heavy rain.
Two cars of a train traveling from Xi'an to Beijing derailed at about 8 pm on Sunday after the rail line was blocked by mudslides caused by the heavy rain.
No one was injured and the railway was back to normal operation by about 4:30 am on Monday after the mud was cleared away, according to the emergency headquarters.
However, the line was blocked again by a mudslide on Monday afternoon. More than 13,000 travelers who had planned to catch trains at Xi'an Railway Station had to make other arrangements.
According to the station, 13 trains were canceled on Tuesday.
malie@chinadaily.com.cn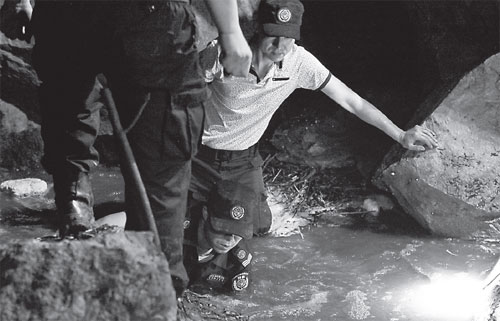 Rescuers search for the body of one of the eight people who died in flash flooding in Xi'an, Shaanxi province, on Monday. One person was still missing. Zhang Jie / for China Daily