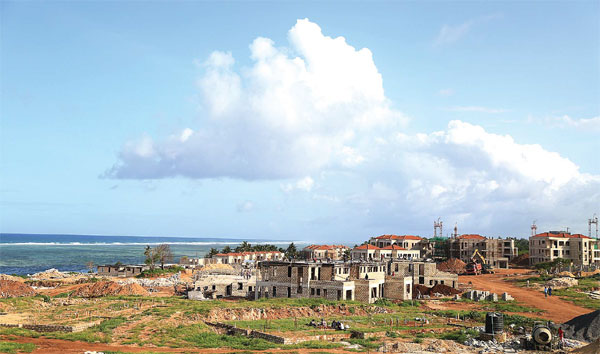 Company pins hopes for beach retreat on opening of railway line
A Chinese property developer is pressing on with an upmarket holiday resort project in Kenya, despite the depressed market as a result of alerts some countries have issued advising their citizens to steer clear of certain areas because of the threat of terrorist attacks.
Sultan Palace Development Limited, owned by Jiangxi Xinyu Real Estate Development, is building the Sultan Palace Beach Retreat in the coastal town of Kikambala, about half an hour's drive from Mombasa, one of Kenya's biggest tourist resorts.
The number of tourists frequenting Kenya's coast has fallen sharply over the past few years, mainly because of security concerns, but the company says there is no reason why the country's hospitality market, particularly Mombasa, cannot bounce back, especially once the standard-gauge railway from Mombasa to Nairobi is completed in 2017.
The line will greatly shorten journey times between the two cities, even as the country's middle class continues to grow, and is expected to fuel a boom in domestic tourism.
At the moment it takes at least 19 hours to cover the 500 kilometers between the two cities, and that will be cut to about four and a half hours.
Sultan Palace Beach Retreat will cover 17.5 hectares along a 700-meter stretch of beach and will consist of 16 detached-family villas, 50 semi-detached villas and 132 apartments. Total floor area will be about 40,000 square meters, and there will be a water park and an entertainment club for children.
Thirty percent of the construction, which began last year, has been completed, and all work is due to be finished late next year, says Li Caisheng, deputy manager on the construction site.
There are few building projects around Mombasa as big as Sultan Palace Beach Retreat, he says.
"Projects developed by local companies are usually small, consisting of just a few blocks of buildings."
Despite fears about terrorism, the hospitality market in Mombasa still holds great potential, says Liu Tiancai, general manager of Sultan Palace Development Limited.
The 198 holiday homes are the first phase of the company's project, he says. In phase two, there will be a five-star hotel that an international hotel brand will manage.
There will also be more holiday homes in the second phase. When construction of that phase begins will depend on market conditions, Liu says.
The hotel will help owners manage and rent out their holiday homes, which adds an extra level of security to their investment, he says.
Most of those buying properties at the resort are from Nairobi, he says, but overseas Kenyans are buying in, too.
"Nairobi has a high concentration of affluent people, and those in Mombasa usually have houses near the coast."
The new railway line is just the first phase of the whole East Africa railway network, Liu says.
"Once the whole thing is completed I think more countries and companies will set up offices in Mombasa."
He also says Kenyan government plans for oil and gas exploitation will make Mombasa, a key port and gateway to East Africa, increasingly important.
Security is not that bad in Mombasa, he says, adding that the Kenyan government needs to do more to dispel misconceptions on this issue.
In 2013 a group of terrorists attacked Westgate Shopping Mall in Nairobi, killing at least 67 people, in May last year three people were killed in two terrorist attacks in Mombasa, and this year 148 people were killed in a terrorist attack at Garissa University College in the country's northeast.
Last year the United States and Britain warned their citizens not to travel to Mombasa because of the threat of terrorism.
In June this year the British government removed the Mombasa warning from its travel advisories, but that seems to have done little to help the tourism industry there recover lost ground.
Even as the holiday high season reigns in Mombasa, those using its northern beaches now seem to be mainly locals, while beaches to the south are all but deserted.
houliqiang@chinadaily.com.cn