Debris could be from MH370
Chinese passengers' relatives hope for early confirmation
China will closely follow the investigation into a piece of debris from an airliner found on Reunion Island off the east coast of Africa as experts suspected it might belong to Malaysia Airlines flight MH370, which vanished 16 months ago with 154 Chinese onboard.
"We are aware of the reports of the debris and will verify the facts," Ministry of Foreign Affairs spokesman Hong Lei said on Thursday. "China will closely follow the investigation and prepare for follow-up work."
MH370 disappeared in March last year with 239 passengers and crew on its way to Beijing from Kuala Lumpur, Malaysia. The debris was found on Wednesday on the shore of Reunion, a French island in the western Indian Ocean. A "closed" suitcase "in very bad condition" was also found in the same area later in the day, Xinhua reported, citing local media.
Continuous search efforts for MH370, led by Australia, have focused on a broad expanse of the southern Indian Ocean off Australia. The search area was expanded in April.
Malaysia is responsible for the investigation and is managing the examination of the debris with the assistance of Boeing, French investigation agency BEA, the US National Transportation Safety Board and the Australian Transport Safety Bureau.
If the wreckage is identified as being from MH370, it would be consistent with other analyses and modeling that the resting place of the aircraft is in the southern Indian Ocean, the statement said.
Relatives of Chinese passengers onboard MH370 issued a statement on Thursday saying they hope to get confirmation as soon as possible about whether the debris is from MH370.
"If the aircraft indeed crashed into the southern Indian Ocean, there must be more than one piece of debris and search efforts must continue," the statement said.
A US official said air safety investigators had a "high degree of confidence" that the debris was from the same model of aircraft as MH370, The Associated Press reported. The official said investigators, including a Boeing air safety investigator, had identified the component as a "flaperon" from the trailing edge of a Boeing 777 wing. MH370 is the only 777 known to be missing.
"We have had many false alarms before, but for the sake of the families who have lost loved ones, and suffered such heartbreaking uncertainty, I pray that we will find out the truth so that they may have closure and peace," Malaysian Prime Minister Najib Razak said on Thursday on his personal blog. He said the debris will be sent for investigation to Toulouse, France, the center of European aviation.
The spokesman for BEA said it may take weeks to determine which aircraft the debris belonged to.
cuijia@chinadaily.com.cn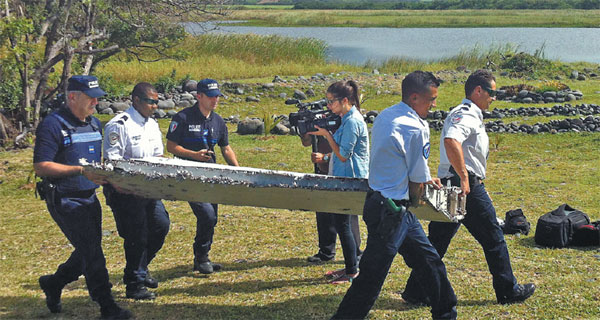 Police officers carry a piece of aircraft debris found on Reunion Island off the east coast of Africa on Wednesday. Experts suspected it could be a part of the Malaysia Airlines flight MH370, which disappeared in the Indian Ocean on March 8, 2014. Yannick Pitou / AFP