Jinhua Home-Stay project fosters healthy exchanges on ancient village preservation
As Philipp Heeb wandered the narrow, ancient streets of Suoyuan village in Jinhua city of Zhejiang province, scribbling notes of what he saw and heard, the 30-year-old wondered what life might have been like here hundreds of years ago.
The Swiss national is an architectural designer who is currently studying for a science master's degree back home. But for the past few weeks he has been a participant in the Jinhua Home-Stay project, launched by Jinhua government last November with the purpose of introducing the city's ancient villages to foreigners.
Forty-two participants like Heeb, students and professors from 14 countries and 24 universities, were invited to live with local communities, and from that experience come up with creative ideas on how to preserve the sites, some of which go back hundreds of years.
They lived there for 21 days, accompanied by volunteers from Zhejiang Normal University as interpreters, with all their expenses covered by the Jinhua authorities.
The participants are divided into several groups. Some made Suoyuan guide books, some built a website for the village in the 21 days. Heeb's group created a unique map of the village, which is to be made pocket tourist guide map in three languages including Chinese, English and German.
The village map offers accurate information about roads, buildings and details its various features.
"I was really able to enjoy the true China here; real people with real problems, where everyone works together to solve anything that comes their way," Heeb said.
Suoyuan is one of the oldest villages in Jinhua. Its traditional buildings, built of stone or wood, retain many fine and very lifelike carvings of animals, birds, flowers and landscapes.
Zhang Hong, director of the Foreign and Overseas Chinese Affairs Office of Jinhua city, said many of the sites originated in the Ming Dynasty (1368-1644) and Qing Dynasty (1644-1911).
"The project is the first of its kind nationally, and is aimed at protecting this kind of ancient village life," Zhang said. "From it we hope to tell the full story of Jinhua, and in doing so, attract more foreign tourists."
By living right among the ordinary folks of Suoyuan, the multinational participants took part in local cultural activities such as dragon lantern performances, watched how traditional food was made including tofu and rice cakes, and got involved in crafts including grass-shoe weaving.
"I was in awe of the Dragon Lantern Show and humbled by the amazing artwork I saw at the Jinhua Architectural Park, the Paper-Cutting Museum and the Mantanghong Calligraphy Museum," said Jeremy Lee Robinett, a professor from Western Illinois University in the United States.
"I was so impressed with my time in Jinhua. My appreciation for traditional Chinese culture has increased greatly, but perhaps even more importantly my assumptions about the Chinese people have been challenged.
"I will certainly share the stories of hospitality and kindness I was shown - which is actually not what is often portrayed in the Western media."
Zhang Anmeng, deputy director of the Protection and Development Research Center for Chinese Ancient Villages, was initially invited to show the foreigners around Suoyuan village.
She explained to them the architecture characteristics and history of Suoyuan, and discussed the importance of combining their history with the more modern issues now being faced by villagers.
Zhang said in future, after seeing what excellent findings they had made, the participants may involve themselves in actual traditional villages preservation work.
Xu Shufang, a vice-director at Jinhua's Foreign and Overseas Chinese Affairs Office, said Jinhua has 195 historical villages similar to Suoyuan. Some are well preserved, but many are poorly protected or maintained due to lack of funds.
"How to protect and develop these villages is a problem we need to address," said Xu.
"We hope to show foreigners the authentic side of Jinhua, not only its exquisite buildings, but also let them enjoy the atmosphere - to experience the lives of the elderly and children alike."
A new group of volunteers is expected to take part in the next Home-Stay project from Oct 12 to Nov 1, and the participants are currently being recruited.
mengfanbin@chinadaily.com.cn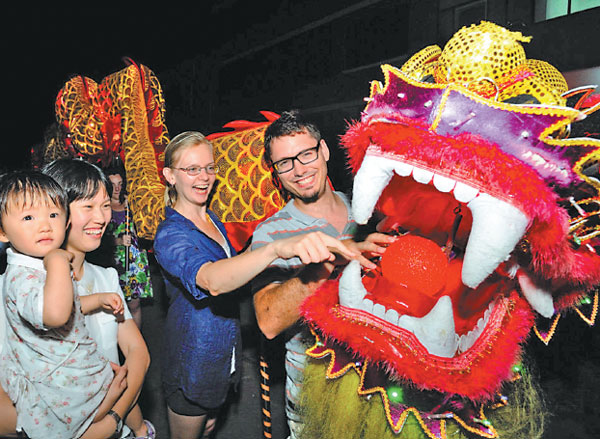 Foreign participants pose with a dragon lantern at Suoyuan village. The villagers performed dragon lantern dance to welcome the overseas participants